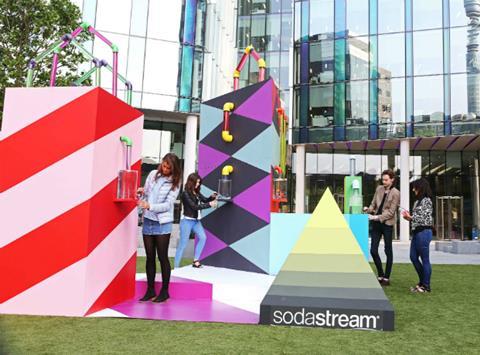 SodaStream has unveiled Let's Play, a pop-up art installation in central London that dispenses sparkling water.

The sculpture - intended to "transform the mundane into the magnificent" - will be on display in Regent's Place until 7pm tomorrow (8 June), supporting the recent £2m SodaStream TV ad campaign.
It follows a 36% rise in UK sales for the first three months of the year after the brand stepped up its marketing to take advantage of growing consumer demand for low-sugar fizzy drinks.

Created by artist Emmet Kierans, Let's Play's look is based on street art and children's playgrounds. It allows drinkers to 'experiment' with SodaStream's sparkling water using the brand's range of flavours.

"With five million Brits admitting that drinking water is one of the most boring and mundane tasks in life, we wanted to shake things up a bit," said Rachel Smith, UK head of marketing.

"We want to highlight how easy and fun it can be to hydrate with sparkling water and SodaStream's extensive range of flavours. Art is the perfect forum to spark people's curiosity; it brings the imagination to life and can inspire people to make water more exciting," she added.