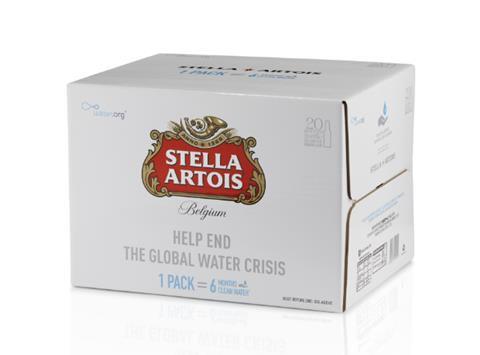 Stella Artois has launched a selection of limited-edition packs to celebrate its long-term relationship with 'safe water' charity Water.org.
Rolling out from the beginning of February, each of the specially designed packs will provide six months of clean water for one person in the developing world.
Featuring a white wrap for a "premium" feel and Water.org branding, the packs will be available from the majority of the major supermarkets.
In addition, beer lovers can get involved by purchasing limited-edition Stella Artois chalices featuring unique designs by artists from three countries affected by the water crisis – Lisa Mam from Cambodia, Fernando Chamarelli from Brazil and Eria Nsubuga from Uganda. For every chalice sold, Stella Artois will help Water.org provide five years of clean water for one person in the developing world.
Brand owner AB InBev said it had helped provide more than 800,000 people in the developing world with access to five years of clean water since the launch of its "Buy a Lady a Drink" campaign.
This year, the "reach and scale" of the push would be greatly expanded through increased investment and the addition of new countries, such as Brazil, Canada, Chile and Uruguay, it said.