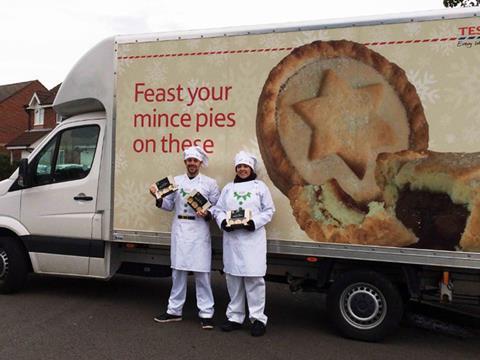 Tesco is delivering free mince pies across Britain to help people get into the festive spirit.
The Mince Pie Man is expected to deliver over 1,000 packs of mince pies when he visits local residents in towns and cities including Portsmouth, Aylesbury, Newmarket, Nottingham and London.
If a customer is not home when he calls he will put a postcard through the letterbox saying 'Sorry we missed you', along with a voucher to be redeemed in stores. Also, if a customer sees the Tesco Mince Pie Man in his van they can take a photo and tweet #HappieChristmas to @tescomedia to receive their free mince pies.
"I'm really excited about the Mince Pie Run; it's definitely a good way to get people in the festive mood," the Mince Pie Man Paul Harrison said.
"I'll be gently knocking on people's doors and handing out free packs of Tesco Mince Pies and saying hello."
Tesco will give away a variety of free mince pies ranging from Tesco Finest to Free From.