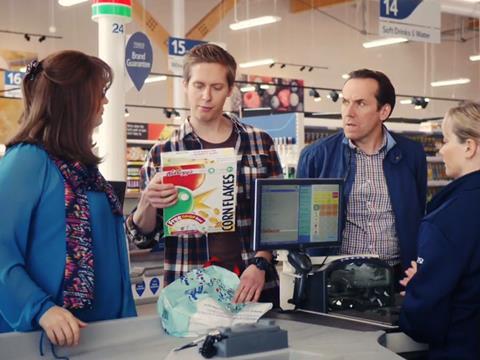 There's something reassuringly old-fashioned about Tesco's family ad, starring Ruth Jones from Gavin & Stacey and Ben Miller of 'Armstrong and' fame - with the 'Every little helps' line centre stage.

The couple's first appearances, alongside their son, are a bit corny. We see them reacting as a till is opened (Jo thinks it's because she's hot, son Freddie thinks the checkout lad reads his blog, dad Roger is paranoid about a stolen grape). Elsewhere, Rog 'haggles' over some Cornflakes and is surprised when it works (Brand Guarantee, obvs).

But families are a bit corny, after all, and Tesco's best recent work has been with characters (Prunella Scales as Dotty, Fay Ripley & Mark Addy's couple). This trio have plenty of potential.