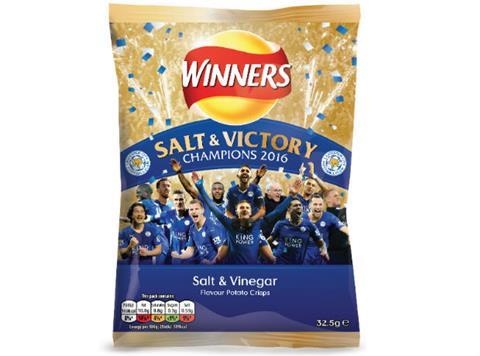 Leicester-based Walkers has launched limited edition packs of Salt & Victory crisps to celebrate its hometown football club's Premier League triumph.

The brand – which will sample the salt & vinegar flavoured snack at Leicester City FC's final home game versus Everton on 7 May – has also completed its Countdown to Kit Off promotion, which saw long-time ad star Gary Lineker slowly 'stripping off' on digital screens across the city.

An image of the broadcaster's head on a comically muscular and barely clad body has been revealed, following his promise to present Match of the Day in his underpants if the Foxes won the league title - which they did yesterday evening (2 May).

"Everyone at Walkers is incredibly proud of our Leicester heritage and we are absolutely delighted that the club will be taking home the Premier League trophy," said Thomas Barkholt, Walkers marketing director.