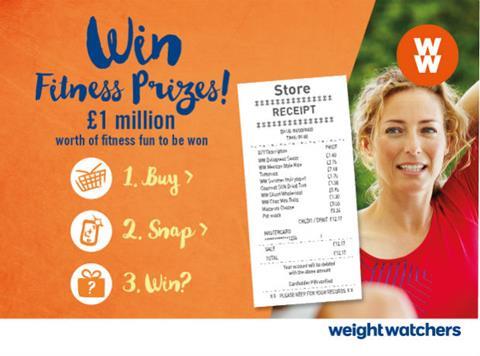 WeightWatchers today launched a promotion across its whole portfolio to offer shoppers the chance to win fitness-based prizes totalling £1m.

Running across 175 products including yoghurts, ready meals and breads, the cross-category marketing push - scheduled to run from 1 March to 29 April - will allow consumers to take photos of their till receipts showing qualifying purchases and upload them at Mywwrewards.co.uk, for the opportunity to bag active holiday breaks, Fitbit activity trackers, hula hoops and other fitness equipment.

The campaign is being operated by WeightWatchers in partnership with Toucan Sales Promotion, a shopper marketing and brand activation agency, and Snipp Interactive, an international provider of marketing promotions, rebates and loyalty solutions.

"It is great that we are able to encourage people to be healthier and more active through this campaign," said Matthew Davis, head of commercial at WeightWatchers.

"Delivering such a strong cross-category promotion, backed up with extensive media and membership messaging, enables us to differentiate ourselves from competitors while collecting insights that will inform future marketing activities and encourage consumer loyalty."

Toucan senior account director Nina McCoy added: "Shoppers are constantly searching for the best offers with desirable incentives for purchasing. Promotional campaigns are effective conversion tools when they tap into consumer lifestyles.
"WeightWatchers is showcasing its holistic health approach, expanding its target audience, and effectively raising brand awareness."