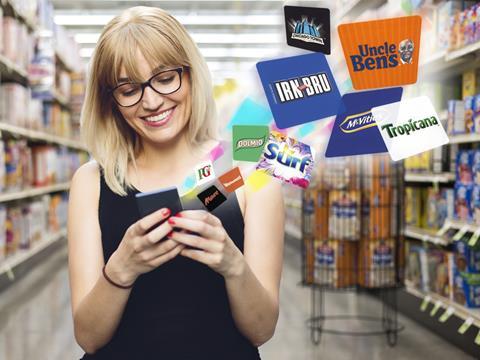 Brands know how to win friends, but few can influence them. So reveals The Grocer's 2017 ranking of the polished, the passable and the downright pitiful efforts of the UK's biggest brands - whether retailers or fmcg suppliers - on social media.

Our ranking, compiled by The SocialRetail group, shows that more than a decade after a socially awkward Mark Zuckerberg first dreamed up his $250bn idea (or stole it if you believe the Winklevoss twins) many major brands and retailers still don't understand social media needs to be a conversation.

Nearly three-quarters (73%) are engaging less than 1% of their vast audiences with an average Facebook post and 70% are achieving the same pitiable 1% engagement with an average tweet.

That means despite the likes of Cadbury UK churning out upwards of 700 tweets in one month, a tiny 1% of its 30,000 Twitter followers shared or liked the content. And of 11 Facebook posts from global heavyweight Coca-Cola GB there were only 7,000 shares, likes or comments from its 101 million followers.

That simply isn't good enough, according to Pete Doyle, founder of the SocialRetail group. "The balance of power is moving back to the consumer. They're no longer going to accept companies that won't engage with them on social media," he says. "Those that don't need to raise their game."
But with nearly every major brand insisting social media is a priority, how are so many getting it so wrong?

Many brands have failed to do the basics, believes Doyle. In other words understanding who their audience is and what they want to hear, relying instead on crass competitions, discounts and giveaways to win empty likes. That leaves brands such as Monster Energy (32) tweeting 139 times in only 30 days but grabbing the attention of a tiny 1% of its audience. The soft drink falls foul of its vast but indifferent audience of 3.3 million, with engagement from 31,000 fans paling into mathematical insignificance. "Many brands have historically focused on accumulating large social media communities at all costs," says Peter Brady, CEO of Orbital Media. "This has often been done without proper consideration for the composition of these communities and whether they contain genuine, engaged or aligned fans of the brand. The impact of this has been to deliver disappointing levels of engagement."

Less talking and more listening should be at the core of any social content, believes Doyle. "Brands in this audit that are just broadcasting content have not done the exercise of understanding what their followers want to hear."

Take the world's biggest brand, Coca-Cola (67). Of its last 10 Facebook posts, four were straightforward broadcasts, three demanded likes and shares, two were repurposed TV ads and only a single post asked followers a question.
"Build humans into your systems. Brands on social should think like humans on social"
It isn't the only major brand lazily churning out content either, with many household names from P&G and Unilever faring poorly too. "The global nature of some of these products or 'ATL' mentality aren't helping," says Amy Naughton, client services director of marketing at Jaywing. "There is a very distinct difference between social advertising designed to buy eyeballs, and social content, which is designed to build engagement and brand relationships - and the huge brands not performing definitely fall into the former camp."

Not only that, but these global brands "are often labouring under a maelstrom of negative press and social media comment," says Brady. "We all remember the negative response to Cadbury when they changed their Creme Egg recipe last year. This can manifest itself in a more cautious, less inventive approach that fails to cut through or engage social media users."

But if underwhelming your followers isn't reason enough to prioritise engagement, the punishment of social media algorithms might.

Facebook now actively curbs the organic reach of brands carrying around big but disengaged audiences. And "if publishers are sharing more content but seeing no engagement they'll end up in a vicious circle with the Facebook algorithm, and possibly end up being seen as spammers, resulting in even lower organic reach and engagement," warns Activation Digital MD Matt Ramsay. "So how to engage more authentically? Be human. Build humans into your systems. Brands on social should think like humans on social, stepping back and thinking 'if I saw that in my timeline would I engage with it?' If the answer is no, don't publish it."
And some brands are managing to do just that. Top spot Irn-Bru might only have 317,000 followers on Facebook (0.3% of Coca-Cola's figure) but with only two posts it garnered double the engagement the global giant achieved with 11, its content liked and shared by 16,000 (or 5%) of its following.

Fun, topical posts capitalising on its Scottish heritage around Burns Night, calling on followers to 'Fair fa' your fizzy, orange face', engaged thousands. Many even crafted their own verse in the comment box beneath.
Supermarkets on social media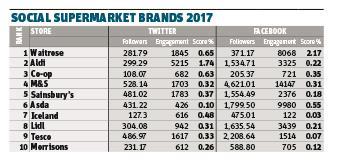 Click here to view the table as a pop-up
Its approach "means they care about that retail impulse, they care about that calendar event," says Doyle. "They're connecting with their fans in a very true and honest way, that's quite special."

This close relationship has helped drive Irn-Bru's success, believes head of marketing at AG Barr Adrian Troy. "The social media landscape as we know it today plays to our strengths and is an integral part of how we connect and communicate. We take pride in providing fun, uplifting and shareable content."

Pringles (20) went one step better. Though a lacklustre performance on Facebook saw it drop down our overall ranking, it came top for Twitter thanks to a staggering 97% engagement score over the course of its 85 tweets, largely thanks to its tongue-in-cheek interaction with one fan - a huge Korean pop star. And Chicago Town pizza (5) says it uses this same light-hearted approach to achieve an average engagement score of nearly 30% on Twitter. "Dr Oetker's social media team has successfully developed the tongue-in-cheek, fun tone of voice that Chicago Town has become so well known for," says head of brand Clare Heathcote. "Engagement and reach online is driven via projecting humour back to pizza, attracting and retaining a core audience of pizza fanatics." Its #ToastieTakeover in October 2016 achieved 35,000 engagement in one day as a result of these "humorous and engaging posts".
Simpler for snacks to be sociable
These frontrunners reflect a wider trend across our ranking in which soft drinks, snacks and comfort convenience food are leading the charge on social, outperforming cupboard staples and cleaning products.

That doesn't surprise Naughton. The likes of Irn-Bru, Tropicana (4), Mars (8) and Pringles "have the advantage that they can successfully create 'throwaway' content that's easier for consumers to attribute engagement to - in a way that more functional brands who are demonstrating opinion or information simply can't sustain."

In other words, Pringles (20) can get away with challenging followers to whip up Pringles jam or enjoy a game of Pringles Jenga, while John West tuna (73) is restricted to pushing the healthy fish oils in its "bloomin' delicious" cans on Facebook.

Such brands could still be doing better. "Some of the more functional categories are still repurposing or working with stock assets, which simply isn't going to earn the respect and engagement from the audience in the same way created content might," adds Naughton.

Rather than emulating the strategies of soft drinks and confectionery brands, she advises functional products opt for "the sharing of recipes, life hacks and pages" which have surged in popularity. "Borrowing and playing to the way in which they can make their consumers' lives easier should be fundamental to the brands' publishing strategy," she adds.

Just look at Warburtons (17). "Bread alone is a grocery basic, but there's more to us than that," says brand manager Iain Lavelle. "People don't just engage with us because of the products we sell but because we understand families, and we understand families because we are one. Our content rings true and works when it focuses on that."
"Just because a product is dull doesn't mean the social media strategy has to be boring. These brands need to be more daring"
For example, rather than post and run the launch of a new campaign for their Giant Crumpets in January, the brand's social media team scrolled through the feedback to find one buried comment in which a customer had politely complained through verse. And "instead of a closed response they replied on the page in verse too, which shows amazing creativity," says Doyle. "Companies that do that give consumers an impression they do care, and they're humans."
Yet despite these examples of social success, our ranking shows many brands appear to have decided social media isn't for them. On Twitter, in particular, one fifth of the top 100 brands failed to tweet even once during our 30-day snapshot and four failed to post a single time on Facebook.

Even the dullest of brands shouldn't give up, insists Brady. "Just because a product is dull doesn't mean the social media strategy has to be boring," he says. "These brands need to embrace a more daring and innovative approach - have fun with it."

One option is to "bring vibrancy" by teaming up with more hedonistic brands or, suggests Doyle, even partnering with retailers stocking their products.

Coming face to face with their customers in stores several times a week, the major mults should be well versed in the art of engagement, after all. Though, as our ranking shows, they still have some way to go on translating this to riveting social content themselves.

No supermarket managed to engage more than 2% of its audience across either Facebook or Twitter, and even top spot Waitrose managed to engage a meagre 1,845 of its 281,000 following on Twitter despite 28 tweets, though it fared better on Facebook.

Social media manager Julie Randall says Waitrose has "increased our focus on social media over the past few years as more of our customers use the channels for food inspiration."

"Indulgent and inspirational" social media posts around the launch of its Waitrose 1 range in April last year was among its best performers, she adds, as well as its baking tips. And it has also begun trialling Facebook Canvas, which provides a more "immersive" experience with moving ads and text.

Though Waitrose was lifted up our ranking by this recipe and aspirational lifestyle content "it could do more on asking questions and getting feedback from people," says Doyle. Because though Morrisons may flounder in tenth spot, engaging a shabby 0.26% on Twitter and 0.12% on Facebook, it is separated from first place by less than two percentage points.

"I would expect supermarkets to be doing better," says Doyle. "I'd like to see them really start a discussion about where they should put their next shop, how should they change their merchandising. I haven't seen any of that going on."

A move like that will take confidence. But brands that coyly stick with their social status quo are missing out on a golden opportunity.

"By finding the right role and the right territory for a conversation, most brands should be able to derive some value from social, even at a very basic level," sums up Ramsay. "Done right, it should work".
Social etiquette: which brands get it right?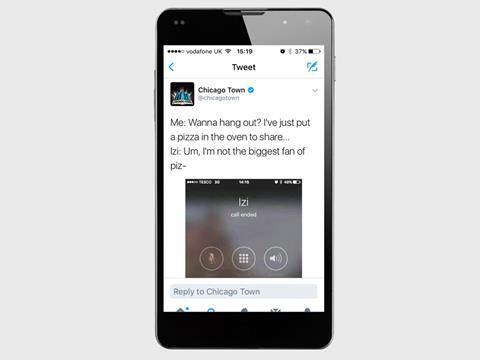 Chicago Town
This pizza meme sums up Chicago Town's approach to social media. With no product in sight, the channel plays on a mix of humour and its passionate pizza fanaticism to draw consistent engagement from its 16,000 followers.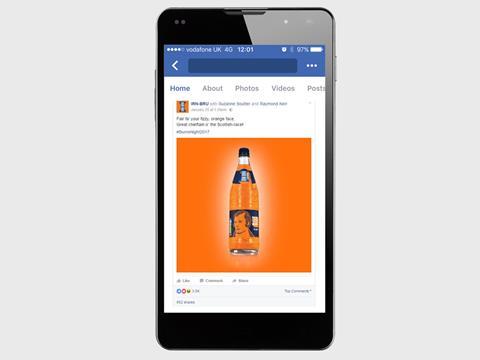 Irn-Bru
Never afraid to sing loud and proud about its Scottish heritage Irn-Bru has built a loyal, engaged fanbase across both Facebook and Twitter. With this simple ode to Burns Night, the brand attracted the attentions of thousands.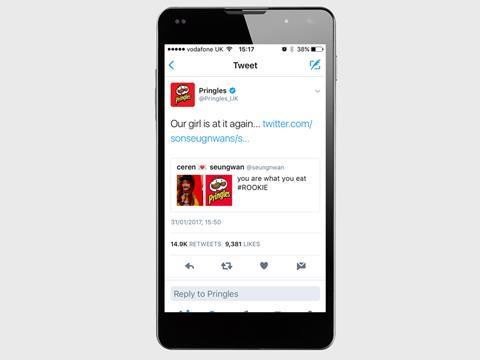 Pringles
Reflecting the interests of its millennial fanbase has helped deliver enviable engagement on Twitter for Pringles. This simple tweet to a Korean pop star (who happens to love the brand) saw 14,000 retweets and 9,000 likes.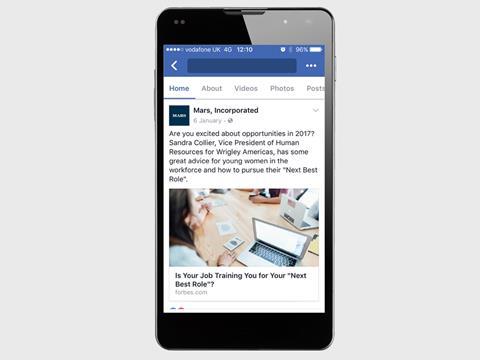 Mars
Mars might have taken a more subdued tone here compared with its rivals but its post, led with a question, and sharing relevant, helpful content, was still liked by 170 followers - proof comedy isn't the only way to win on social.