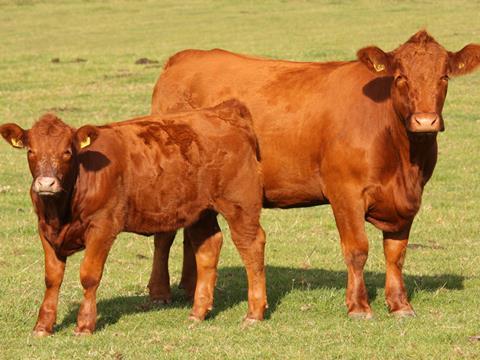 Ireland has launched a €300m programme to accelerate genetic improvement in its suckler herd and boost the environmental and economic sustainability of beef.
The Beef Data and Genomics Programme will run over six years, offering financial assistance to around 35,000 beef farmers across the country.
Farmers taking part in the scheme will receive annual payments in return for taking tissue samples for genotyping, collecting herd performance data, introducing a breeding and selection policy and completing on-farm carbon efficiency assessments.
Speaking at the launch today, Ireland's Agriculture Minister Simon Coveney described the programme as a "major shot in the arm" for the country's suckler sector.
"Building on Ireland's strong environmental credentials is a central part of our strategic policy focus for developing our livestock sectors and a key part of our messaging on international markets," he said.
"Improving the genetics of the national herd will enhance its carbon efficiency, and will also deliver significant economic benefits to farmers over time."
He claimed Ireland would be the "only country in the world" to apply genomic technologies and perform on-farm carbon assessments in the beef sector on such a massive scale.