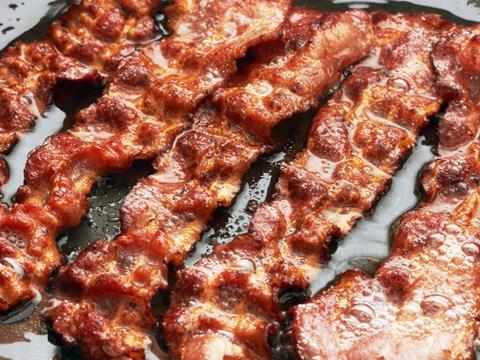 Brits have shrugged off fears eating bacon could cause cancer, when it comes to breakfast at least.

Bacon appeared in 87m more breakfasts over the past year, an increase of 14.3%, while fresh sausage sales were are also up 5.9%, suggesting concerns about a cancer link to processed meat - outlined in a report published by the WHO last October - are wavering [Kantar Worldpanel 52w/e 27 March 2016].

"Breakfast continues to deliver growth for bacon," said Steve Evans, a senior consumer insight analyst at AHDB, who also noted there were less lunch and evening meals comprising of the meaty treat.

"There were fewer bacon sandwiches eaten at home, but rashers were in growth indicating that consumers are using bacon in alternative ways at breakfast," he said.

But despite growth at breakfast, overall volume sales of bacon and sausages are still in decline following the publication of the WHO report, according to AHDB, with the two products registering a decline of 2.1% and 2.9%, respectively [Kantar 52w/e June 2016].

"The AHDB Consumer Tracker suggests that consumers are still aware of the messaging arising from the WHO report. However, enjoyment has a far greater influence on consumption choice than health does. The satisfaction consumers get from bacon and sausages at breakfast appears to be outweighing any health concerns at this meal occasion," Evans added.

Overall breakfast occasions, meanwhile, were up 0.6% as fewer Brits skipped out on the meal.