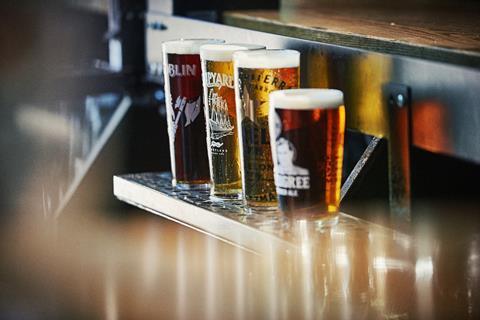 Top story
The UK competition regulator has cleared the £780m merger of Marston's and Carlsberg's UK brewing operations, clearing the way for the deal to complete later this month.
The two brewers agreed a deal in May to merger Marston's brewing arm with Carlsberg's UK division and create new a joint venture.
However, the Competition and Markets Authority announced in August it was launching a formal competition enquiry into the merger after the European Commission referred the case to the United Kingdom.
The competitions body said it would consider whether the deal constitutes a merger under the Enterprise Act 2002 and, if so, if it could be expected to lead to "a substantial lessening of competition within any market or markets in the United Kingdom for goods or services".
Carlsberg said in a short statement this morning: "The joint venture between Carlsberg UK and Marston's PLC to form the Carlsberg Marston's Brewing Company has now been approved by the Competition and Markets Authority."
"A number of internal and legal processes remain outstanding before the transaction is completed, which we envisage being around end of October."
The proposed merger will see Marston's receive a 40% stake in the newly created Carlsberg Marston's Brewing Company as well as a cash payment of up to £273m.
Previously consumer group CAMRA (the Campaign for Real Ale) said it harboured "serious concerns" about anti-competitive effects of the JV, including "market foreclosure for small brewers, which will reduce choice for beer drinkers and pub-goers".
Marston's shares were up 5.5% today to 43.8p and Carlsberg shares edged up 0.1% to DKK891.40.
Morning update
GDP grew by 2.1% in August 2020, the fourth consecutive monthly increase, but it remains 9.2% below the February 2020 level, according to the ONS.
This is below the level expected by economists who had pencilled in a rise of 4.6%.
Monthly gross domestic product grew by 2.1% in August 2020 following growth of 6.4% in July, 9.1% in June and 2.7% in May.
The accommodation and food services sub-sector contributed 1.25 percentage points to the 2.1% growth in GDP for August 2020, as the combined impact of easing lockdown restrictions, Eat Out to Help Out Scheme and "stay-cations" boosted consumer demand.
Elsewhere, food and beverage ingredients supplier Treat said this morning its 2020 profit before tax and exceptional items is likely to be in line with pre-COVID-19 Board expectations, despite market disruption caused by the outbreak.
It said the group performed well during the second half of the financial year, reflecting its focus on added-value products.
Revenue for the year is anticipated to be in the region of £109m, a decrease of 3% (-3% in constant currency) compared with the prior year as sales were impacted by the substantial reduction in orange oil raw material input costs, which fell by more than 50% in the prior year.
Excluding orange oil related products (which represent around 22% of 2020 revenue), revenue grew by 4% in the year.
The impact of COVID-19 on on-trade demand was particularly felt in Q3, with Q4 revenue showing some recovery as the hospitality sectors in Europe and the US began to reopen.
However, the company expects to report profit before tax and exceptional items for FY20 of approximately £14m, in line with its pre-COVID-19 expectations.
Despite a 10% reduction in reported revenue from our citrus category, which contributes 50% of group revenue, gross profit from this category increased year on year as the business continues to transition away from traded and minimally processed products to more added-value customer solutions
In non-citrus revenues; health & wellness grew by 16% and fruit & grew by 10% as its clean label innovations continue to perform well in the marketplace.
Work on its new facility in the UK is almost complete which means that it is approximately 75% of the way through its overall capital investment programme in the US and UK. The fitout of the new UK facility is under way and it expects to begin transitioning to the new site in Spring 2021.
For its 2021 financial year, Treat said that – despite the significant disruption to consumer demand across its markets – it remains "cautiously optimistic" about its growth trajectory.
"The build out of our coffee platform continues and we anticipate gaining traction in the cold brew coffee market. Additionally, we foresee continued benefit from the ongoing growth in the global alcoholic seltzer market," it stated.
Daemmon Reeve, CEO of Treatt, commented: "We have delivered a strong performance in spite of the difficult backdrop during the year and I thank our colleagues across the Group for their skill, flexibility and determination in what has been an extraordinary period.
"Our strategy has built resilience into our business model and we are strongly positioned to benefit from key consumer trends including the preference for natural products, a growing interest in health and wellness, and premiumisation. As such, we remain confident in the long-term prospects for the business."
On the markets this morning, the FTSE 100 is back up to 6,000pts after a 0.4% rise this morning.
Along with Marston's, risers include Hotel Chocolat, up 3.9% to 348p, Devro, up 3% to 177.6p and Marks & Spencer, up 2.9% to 98.6p.
Fallers include Ocado, down 1.2% to 2,430.4p, Stock Spirits, down 1.1% to 216.5p and FeverTree, down 0.9% to 2,102p.
Yesterday in the City
The FTSE 100 ended Thursday up 0.5% to 5,978pts
Tesco bounced back 1.5% to 215.7p after posting its half year results on Tuesday.
Other risers included PZ Cussons, up 3.8% to 239p, Coca Cola European Partners, up 3.4% to €34.70, Hotel Chocolat, up 3.1% to 335p, Greggs, up 2.7% to 1,397p and Bakkavor, up 1.6% to 777.5p.
The day's fallers included Hilton Food Group, down 3.6% to 1,174p, DS Smith, down 3.3% to 298.9p, Applegreen, down 3.2% to 300p, FeverTree, down 2.4% to 2,122p and Associated British Foods, down 2% to 1,895.5p.
Imperial Brands was down 0.6% to 1,356p after posting a positive half year trading update.