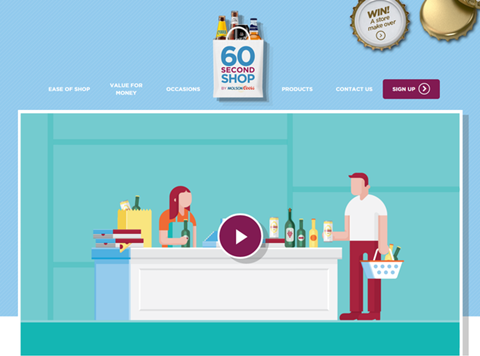 Molson Coors is aiming to help convenience retailers optimise their stores with the launch of initiative 60 Second Shop.
The brewer has produced a series of 60-second videos, hosted at 60secondshop.co.uk, that give tips on improving their outlets in three key areas: the ease of shopping experience, catering to key occasions, and providing value for money.
To support the launch, Molson Coors is giving away 60 store makeovers. These include a 'night in' PoS package, aimed at more effectively merchandising products bought together for that occasion, plus free stock of beer, cider and KP Snacks. Twenty of the winners will also get a chiller re-jig to help shoppers find beer and cider easily.
"In the 12 months to April 2015 the convenience market generated £37.7bn in sales, year-on-year growth of 5.1%," said Molson Coors customer marketing director Alpesh Mistry. "This growth is being driven by 'Generation C' - shoppers who do not have time to do a full shop and choose to shop at convenience stores.
"We know beer and cider shoppers are some of the biggest spenders in convenience stores, they also are some of the most savvy. The 60 Second Shop initiative is designed to make the shoppers' life easy so that they won't just come back to the store, they will spend more."
Molson Coors' brands include Carling, Coors Light, Cobra, Grolsch, Sharp's Doom Bar, Carling British Cider and Rekorderlig.