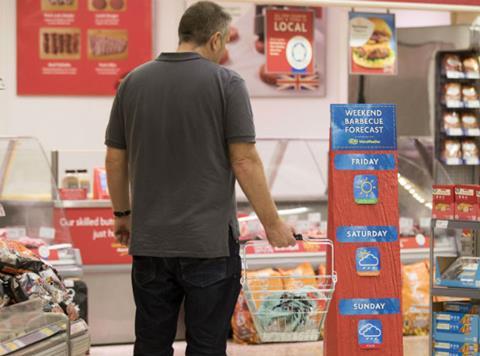 Morrisons is putting weekend weather forecasts in all its stores to help customers plan for barbecues or indoor dinner parties.

From Friday, the supermarket will set up 'weatherboards' at the front of its 491 branches in partnership with forecast service MetraWeather and make weather announcements over the PA system.

The campaign, which will last for the duration of the school summer holidays, is designed to help customers buy the right food for the weather ahead of their weekends.

Research conducted for Morrisons found 58% of Brits don't know the weather forecast when shopping, and as a result, 21% say they buy the wrong food.

Nearly a third said they made additional shopping trips if the weather was unexpectedly good or bad.

Anna Lane, customer service director at Morrisons, said: "We can't change the weather but we hope that by giving our customers up-to-date local BBQ forecasts we will help them plan their shopping and make the most of our fresh British food this summer."

Last month, Sainsbury's aimed to encourage midweek barbecues with large outdoor screens displaying the number of hours of daylight left at 19 major UK stations, including London Waterloo and Edinburgh Waverley.