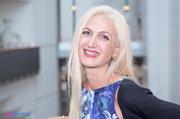 Mrs Rend Platings
Cambridge
Founder of Sugarwise.org the certification for food and drink low in free sugars - the simple kitemark - dubbed in the media as "sugar's equivalent of the Fairtrade marque with the potential to become as big" - the Grocer
Recent activity
Comments (11)
Well said Sophia - to become the people's retailer it must now get serious about supplying more lower sugar options in all food and drink categories, including of course iced tea!

Hey we know there's a disparity, sugar reduction is possible or there wouldn't be Sugarwise accredited products. We can certify your teas Sophia, we have a bursary scheme running now for small manufacturers so get in touch, we'd love to work with you on this. Well done AOS for bringing this to the fore.

There's an error on the page link to Sugarwise, should be www.sugarwise.org

Thanks for correcting!

Rend

Top initiative - very impressive and from perspective of Sugarwise.org would love to hear more!
Discussions (0)
Mrs Rend Platings has not added any discussions yet.
Posts (0)
Mrs Rend Platings has not added any posts yet.