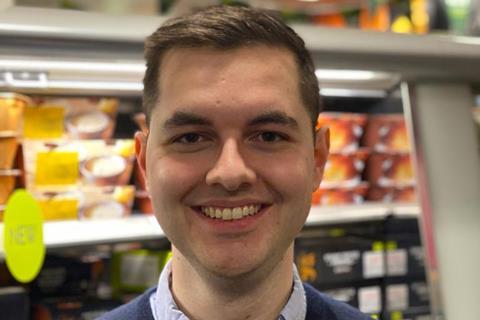 Name: Freddie Keen

Age: 24

Job title: Technical graduate

Company & location: Pentadel Project Management, Cheltenham

Education: University of Sheffield – Chemical Engineering BEng, University of Nottingham – Food Process Engineering MSc

Why did you decide to go for a career in food? The decision was really natural. I have long had an obsession with food and wanted a career where I could feel passionate about the end product. During university holidays I worked in the restaurant industry, firstly as a bartender/waiter but then ended up filling in as a pastry chef after a staff shortage. I felt such a passion for the food we were serving but wanted to find a career in food that made the most of my engineering and technical background and interests – becoming a technical graduate at Pentadel Project Management has given me that opportunity.

Explain your job to us in a sentence (or two): At Pentadel, we design and then manage the build of food production facilities across the UK and overseas. I work alongside engineers, project managers, architects and quantity surveyors at Pentadel – taking on any task necessary to help them deliver our clients' projects on time and to budget. At the moment my job is to learn and observe, with a view to eventually taking on more responsibility to project manage and oversee engineering design for various projects.

What does a typical day look like for you? The only typical thing about my day is the time I start, as no two days or projects are the same! One day I can be figuring out how big a factory needs to be to accommodate production in five years' time, or working out how to increase a food producer's output five-fold in already crowded premises, while another day I can be organising product to be sent abroad for production trials. It's great that I'm also getting the experience of meeting clients and learning how we can best manage and exceed their requirements.
"It takes so much work to get even the simplest everyday item of food to the supermarket"
Tell us how you went about applying for your job. The whole process was incredibly quick and efficient – from applying for the role to starting took just three weeks! I saw the job advertised online and immediately felt that I had the right qualifications and skills. Pentadel was looking for a recent graduate with a mathematical/engineering-based degree to help build their business, and as they work with a lot of food and drink companies I was attracted to the position.
I had two video interviews and then I went in to meet the Pentadel team to see if I would be a good fit. Pentadel is a new, dynamic company focused on helping its clients innovate and solve complex manufacturing challenges. So an important part of my interview was proving that I not only had the academic and technical skills, but also that I could think on my feet and develop a good rapport with their clients and their team. In the interview, I was shown a brand new project (which I'm now working on) and was asked about how I would go about approaching the problem the client was looking to solve.

It was great to be challenged like this to demonstrate I had problem solving skills and that I'd be a great asset to Pentadel's clients and within their team.

What's the best part about working for a food company? It's hugely exciting to be working within the UK's largest manufacturing sector at a time when the British food industry is growing and innovating at such a fast pace. There's so much change going on with consumer habits, diets and shopping methods that it's really challenging food and drink producers at every level. To be able to help food brands such as Tyrrells, Hello Fresh and Charlie Bigham's solve complex production issues and to offer real solutions to influence and improve the quality of their products is amazing. Seeing a product on a supermarket shelf and knowing that you've played your part helping it get there is an incredible feeling.

And what's the biggest misconception people have about working in food & drink? That it's less challenging than other industries, which couldn't be further from the truth. Food and drink production is complicated and full of problem solving. You have to be unafraid to ask the right questions and use a fair dose of logical thinking and intuition to solve problems that are unique to each client. Even though my job is hugely varied, the work I do represents a tiny slice of the journey from producer to shelf. It takes so much work to get even the simplest everyday item of food to the supermarket.

What advice would you give to other young people looking to get into the food & drink industry? Go for it! It's such a dynamic industry and there are so many different types of jobs within it you can apply for. If you have a technical or engineering background like me, there are certainly plenty of opportunities to apply your skills and knowledge to help food and drink companies innovate their product and improve their manufacturing processes.

What's your ultimate career dream? More of the same! I feel very lucky to be in a role that is so closely tied to what I studied at university and that I'm learning from such a great team at Pentadel. As my career progresses and I gain more experience, I'd like to take on more responsibility and take the lead in driving projects.