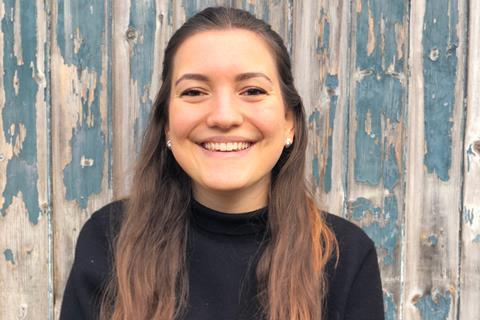 Name: May Bullock
Age: 22
Job title: Operations & export
Company & location: Lucy's Dressings, London
Education: BA (Hons) History, University of Exeter
Why did you decide to go for a career in food? During my time at university I had absolutely no clue what I wanted to be when I 'grew up'. I didn't know if I wanted to be a teacher or try something in business. However, I wanted to work for a business that I was actually interested in, as opposed to a grad-scheme in an area that I knew nothing about.
I became interested in the world of healthy food and wellbeing thanks to Deliciously Ella and Livia's Kitchen, who I started following when I was still in school. I became passionate about healthy cooking and loved seeing all the 'cool but healthy' snacks that were available on the market. So, working in food seemed the obvious choice!
Explain your job to us in a sentence (or two): Very simply, I look after the production and distribution of all our products while also exploring opportunities to expand our business overseas.
We're a really small team though, so I'm not sure it's possible to describe what I do in only one sentence!
What does a typical day look like for you? I wake up early and head to Barry's Bootcamp, which always gets me ready for the busy day ahead. Then I scoot across Clapham Common to the office and get mistaken for a child on their way to school. Next its breakfast al desko with the other girls in the office – we all get in a bit earlier to scoff down our overnight oats and gossip before starting our emails at 9am.
We usually have a team meeting at 11am, where we discuss everything from diary dates to NPD. Then it's lunch time and I'm out on the Common again playing with our office dog Rhino – he is an adorable cockapoo that is extremely naughty but also very entertaining.
"I became interested in the world of healthy food and wellbeing thanks to Deliciously Ella and Livia's"
Operations-wise I focus on the production and distribution of products, supply planning, order fulfilment, sales data and stay up to date with general admin. My job requires a lot of careful management and logistics, so it pays to be organised throughout the day.
I'm also focusing on getting Lucy's into international markets, which is very exciting. Lucy's Dressings are new to exporting so I have been working closely with the Department of International Trade in researching markets and finding buyers to approach. With export comes a lot of paperwork, so you can sometimes find me running down to the Chambers of Commerce with a look of utter desperation.
However, what I love so much about my job is that it's so varied, so on any given day you might find me in meetings, tastings, events, or even in a hairnet and wellies helping with new product development!
Tell us about how you went about applying for your job. It was crunch time during my final university exams and I was doing absolutely anything I could to procrastinate so I started looking for jobs online. My friend Tom told me about the jobsite 'Escape the City' and said it had lots of jobs in the food industry that I should look at. I saw that Lucy's Dressings were looking to hire an intern to work in the company over the summer. I handed my dissertation in on the Thursday morning and applied for the internship the same day. Lucy [Mackenzie, founder] then gave me a call on the Friday morning, which turned into a phone interview. The hardest questions she asked me were definitely 'how would your friends describe you?' and 'what quality do you look for in your best friends?'. I met with Lucy the following week in London and she offered me the internship, which then turned into a full-time job.
What's the best part about working for a food company? It is such a cool, fun, exciting and innovative industry to be working in, and I'm sure no one has ever said that about corporate finance or management consultancy!
I have learnt so much about running a business in the past 15 months that I would have never learnt at my age in the corporate world. I also absolutely love walking through the supermarket with my friends and showing off my industry knowledge, which I'm sure they hate but they are kind enough to pretend to listen.
And what's the biggest misconception people have about working in food & drink? When I tell people I work for a salad dressing company they often assume I work in a factory filling bottles! Although I do have more selfies of me in a hairnet than I thought I ever would.
What advice would you give to other young people looking to get into the food & drink industry? Do it! You'll never be bored, and all your friends will always tell you how cool they think your job is. If you're lucky enough, you can have a real impact within your business, which is truly rewarding.
What's your ultimate career dream? COO of Lucy's by 27… Forbes 30 under 30 here I come!