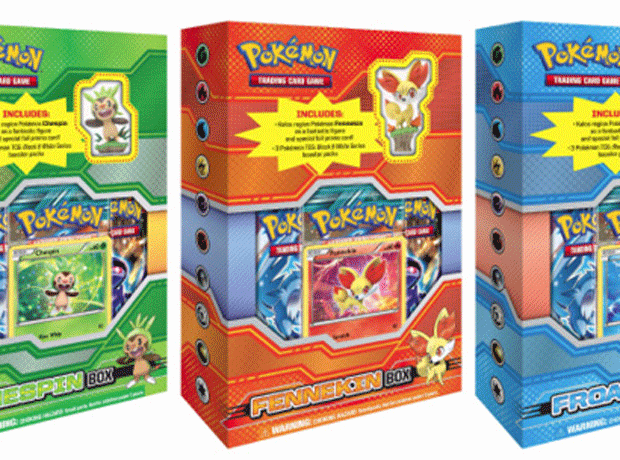 As Nintendo prepares to launch a new series of Pokémon videogames, the 15-year-old brand is showing it still has pulling power in the collectables market.

Pokémon X and Pokémon Y will launch worldwide on 12 October for the Nintendo 3DS handheld console - and will bring with them non-electronic collectables.

Available from next month, the new Pokémon figure and trading card sets feature figures such as Chespin, Fennekin and Froakie, three new Pokémon from the X and Y games. Each box (rsp: £14.99) contains a Pokémon figure, a foil promo card and three booster packs of cards from the Pokémon Black & White series launched earlier this year.

A pack of three Black & White series boosters (rsp: £9.99), which come with a pin badge featuring one of the three new X and Y characters, will also available from October.

It is estimated that 20 billion Pokémon trading cards have been printed since the game launched in 1999, and it is still going strong, says Steve Buckmaster, sales director at toys and collectible distributor Esdevium Games.

"Pokémon is a very special brand, and has shown enduring properties few can match," he added. "Bolstered by regular video game releases, a strong TV show and a continually evolving trading card game, Pokémon truly is an evergreen brand."

Other releases tied into the Pokméon X and Y videogame will be toys and collectables from Tomy International, last year granted the master toy licence outside Asia.