Football fever is sweeping the nation as the World Cup kicks off in Russia and brands and retailers are making the most of the team spirit with some innovative NPD. Here's our pick of the best: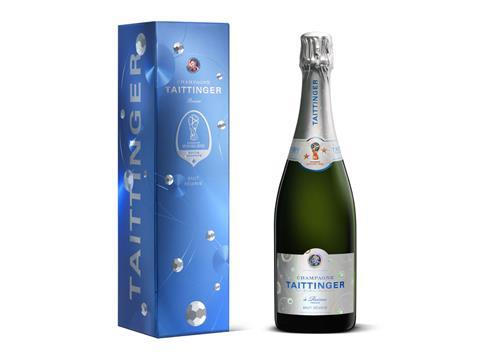 Limited-edition Brut Réserve NV
RSP: £42.85
Brand: Champagne Taittinger
Having extended its partnership with FIFA for four more years, the official champagne of the World Cup 2018, Taittinger, has plenty of reason to celebrate. Now fans of both footie and fizz can raise a glass of its limited-edition Brut Réserve NV, which comes in an "elegant blue and silver box with a cosmic design to reflect Russia's achievements in space".
The souvenir bottle, complete with the World Cup trophy on its neck label, is available now in Waitrose, Asda, Luvians, Partridges of Sloane Square and on champagnedirect.co.uk.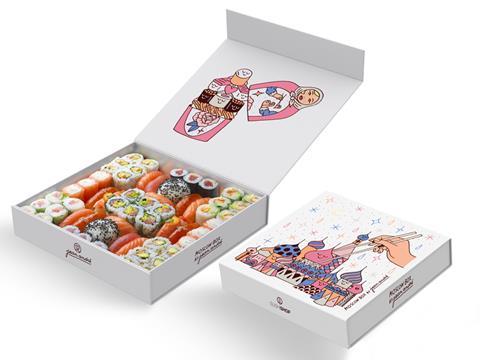 Moscow Box
RSP: £65
Brand: Sushi Shop
International sushi brand Sushi Shop has collaborated with painter and tattoo artist Jean André to create the limited-edition Moscow Box. The 58-piece box contains 12 varieties of sushi, sashimi and maki, including three new Russian-inspired flavours: Bolshoi Spring, Kremlin Roll and Russian Football.
The boxes, featuring André's "colourful and joyfully cute" illustrations, will be available online and from Sushi Shop's five London branches from 13 June. The three new flavours will also be available à la carte.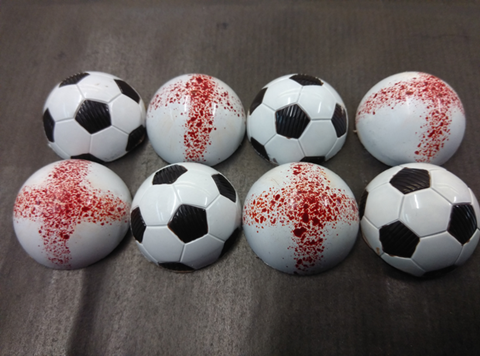 England football chocolates
RSP: £10
Brand: Choctopia
Master chocolatier and the man behind Choctopia, Matt Hancock, has created these footie-themed chocolates in time for kick off. The miniature football and England flag truffles come in mixed packs of six and are available now from the Choctopia website.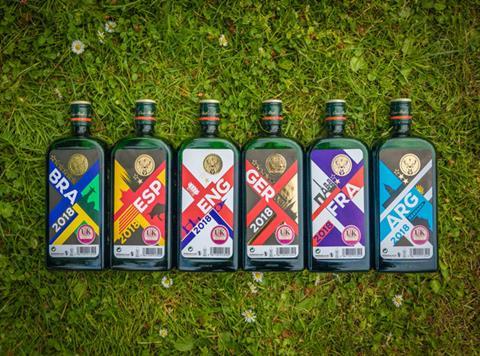 Limited-edition flag bottles
RSP: £18
Brand: Jägermeister
Jägermeister is getting into the World Cup spirit with the launch of these limited-edition bottles, emblazoned with the flags of each competing country. Bottles representing six of the world's most famous footballing nations - England, France, Brazil, Germany, Argentina and Spain - are on supermarket shelves now, and the rest can be found on the Jäger e-shop.
The brand is also launching a Yard of Jäger gift pack containing 10 2cl miniatures of the herbal drink, which is available in B&M for £10.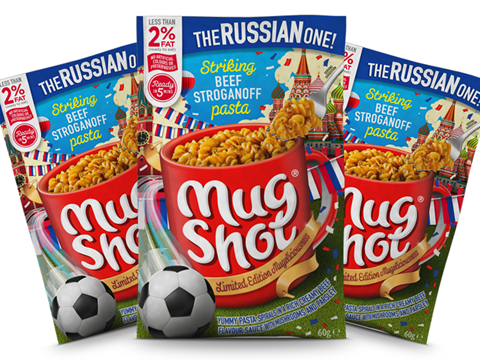 The Russian One Beef Stroganoff pasta
RSP: 85p
Brand: Symington's
Taking inspiration from classic Russian dish beef stroganoff, Mug Shot launched The Russian One into Tesco and Asda at the start of May. Comprising pasta spirals in a creamy beef flavour sauce with mushrooms and parsley, this limited-edition pack is "quick and convenient for a half time snack or throughout the game", says the brand.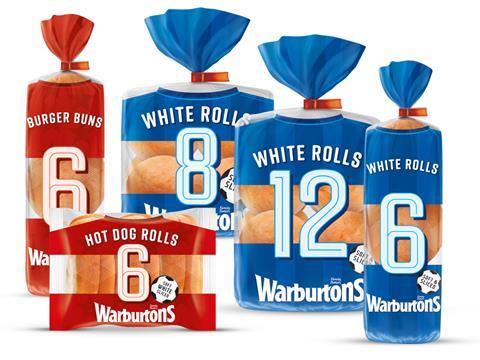 Football-themed hot dog and white rolls
RSP: £1.19-£1.93
Brand: Warburtons
Warburtons will be hoping for barbecue weather during the World Cup this summer after giving its burger buns and hot dog rolls a footie-themed packaging makeover. Five of the brand's wrapped bakery SKUs have been given red and blue football shirt designs, which Warburtons hopes will "excite consumers and provide the perfect solution for football-themed displays". The rolls are available in supermarkets and convenience stores until mid-July.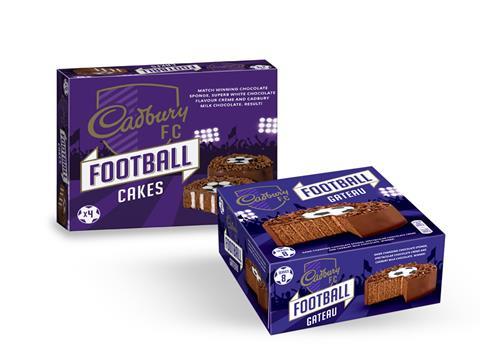 Cadbury FC Football Cakes and Gateau
RSP: £2/£3
Brand: Premier Foods
Cadbury Cakes is marking the occasion in the best way it knows: with not one but two new cake launches. Premier Foods launched the four-pack of Cadbury Football Cakes and the Cadbury Football Gateau, which serves eight, on 4 June. Both products carry themed packaging and each cake is topped with an edible football emblem.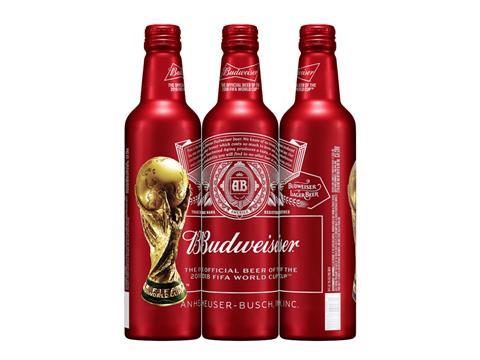 Limited-edition alu-bottles
RSP: £1.50/£10
Brand: Budweiser
As the official beer of the World Cup 2018, Budweiser has revamped its packaging to feature the iconic trophy. The design will appear accross all formats, including aluminium bottle. Budweiser believes the alu-bottles will be "perfect for football fans stocking up last minute", as they chill quicker and retain the cold for longer than regular bottles.
The alu-bottles will be sold individually accross retail and an eight-pack will be available exclusively to Asda.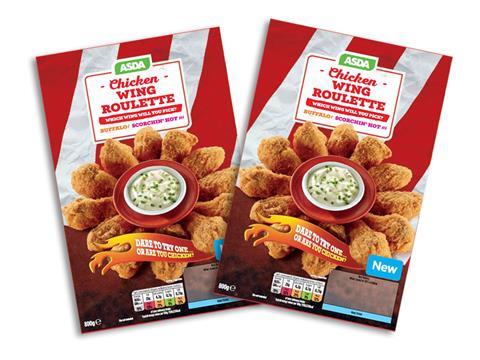 Chicken Wing Roulette
RSP: £3
Brand: Asda
Asda aims to to spice up matchday viewing with its new Chicken Wing Roulette. Some of the crispy coated wings are flavoured with a mild buffalo mix and some are 'scorchin' hot', but which is which? The platter is designed for half-time feasts with a kick. Landing in Asda on 11 June.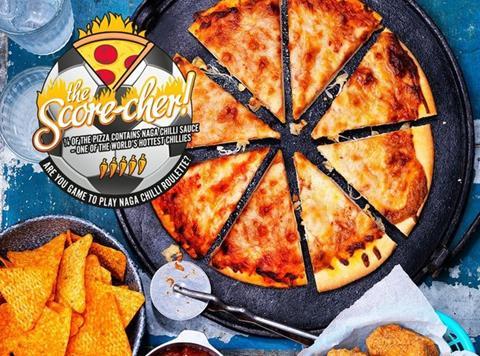 Score-cher pizza
Rsp: £2.60 for 10" (£2.40 from 28 June), £3.50 for 14"
Brand: Asda
Asda is also bringing the fun and games to its pizza counter. In a similar style to the Doritos Roulette bag, a quarter of this new pizza is layered with "fiery" naga chilli sauce, so certain consumers sharing on match day will be in for a surprise warm up. Score-ching.