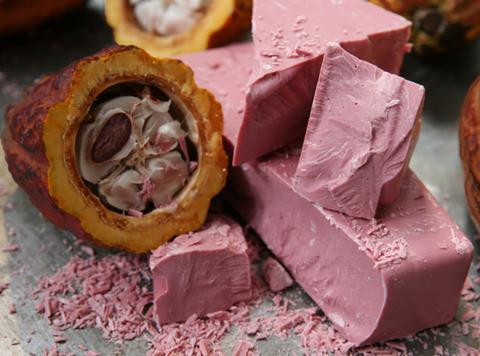 Swiss chocolate giant Barry Callebaut has unveiled the fourth type of chocolate to join milk, dark and white – ruby.
Launched today (5 September) to mark the 80th anniversary of white chocolate, the ruby variant had an "intense taste and characteristic reddish colour" said the confectioner. The naturally dark pink chocolate comes from the ruby cocoa bean through a proprietary production process, with no added colour or flavour.
Sourced from different regions around the world, the bean's "specific set of attributes" had been unlocked only after "many years" of work by Barry Callebaut's R&D centres in France and Belgium. The resulting chocolate offered "a totally new taste experience" that the supplier described as "not bitter, milky or sweet but a tension between berry-fruitiness and luscious smoothness".
Barry Callebaut expects ruby chocolate to be in demand across a variety of categories. Consumer testing in the UK, US, China and Japan had indicated shoppers would be willing to buy the new chocolate at different price points, it said.
Ruby chocolate satisfied "hedonistic indulgence", a new consumer need among millennials, said Peter Boone, Barry Callebaut's chief innovation & quality officer. The supplier would work with its partners "on introducing this innovative breakthrough to the market and making it available to chocolate manufacturers and consumers around the world", he added.