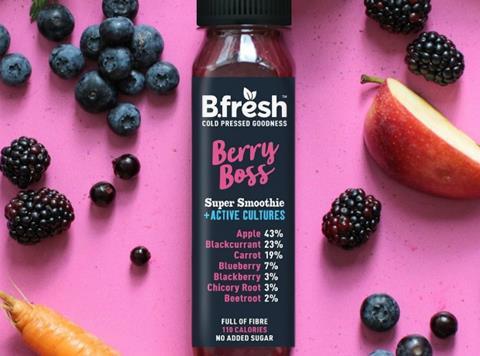 Juice brand B.fresh has launched Super Smoothies +Active Cultures, a range enriched with probiotics and prebiotics – to tap Brits' fascination with gut health.
A blend of cold-pressed fruit and vegetables, the drinks were a UK first, B.fresh claimed. They contained one billion active cultures called ganeden bacillus coagulans, it added. These were "dairy-free probiotics that increase your gut microbiome and so support digestive health naturally".
The smoothies were also made with chicory root extract – "a prebiotic to nourish the good bacteria already in the gut, whilst also giving a healthy hit of fibre".
Two variants are available from Ocado, Caffè Nero and independents: Berry Boss, a blend of blackcurrant, blueberry, blackberry, carrot, beetroot and apple; and Green Guru, a mix of spinach, pea, cucumber, avocado and apple. Each 250ml serving counts as one of the 5 a day (rsp: £2.79).
Gut health was "a massive trend right now" said B.fresh resident nutritionist Pixie Turner. "Except it's not just another fad. More research is being published on gut heath all the time, and we're only now really starting to appreciate its importance to our overall health."