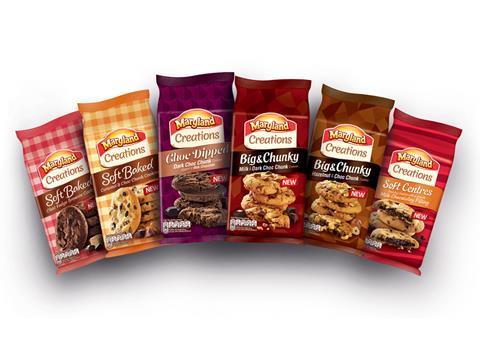 Burton's Biscuit Co has revealed a fresh look for its Maryland brand, combining its 'special treat' products into a single, easier-to-shop premium range and adding NPD.

Products introduced as part of the new Maryland Creations line-up are Choc Dipped, a cookie filled with milk and dark chocolate chunks and half-coated in milk chocolate, and Soft Centres, large biscuits filled with milk chocolate cream.

Soft Baked is set to get a Fudge Choc Brownie variant, while Big & Chunky has improved the recipes for Milk & Dark and Hazelnut Crunch.

The new range - rolling out this month - will be backed by a £1.2m push that includes posters, print and sampling.

"With the introduction of Maryland Creations, we're simplifying the offering for shoppers and creating a true beacon biscuit treat range that is sure to drive shoppers to the fixture and in turn, help retailers grow the Maryland brand in-store," said David Costello, head of category & shopper management at Burton's.