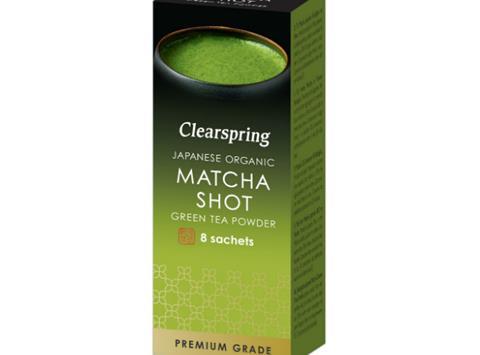 Japanese organic food brand Clearspring has launched its first matcha shot to tap demand for healthier on-the-go pick-me-ups.
Rolling out now to independents and health food wholesalers, Japanese Organic Matcha Shot is sold in eight individually wrapped 1g sachets with an rsp of £6.25.
The finely ground powder is derived from shade-grown green tea leaves rich in chlorophyll and flavanols – which are thought to have a protective effect on the immune system and brain, as well as anti-ageing benefits for the skin.
"Matcha can also be higher in theanine, an amino acid that can have a relaxing and calming effect on the mind and help with focus and concentration," said nutritionist Cassandra Barnes on behalf of Clearspring. "All this makes matcha a fantastic natural pick-me-up without the over-stimulating effects of coffee, and with more health benefits."
The brand's sales & marketing director, Maria Dawson, added: "When consuming matcha, you are ingesting the whole tea leaf, as opposed to the brewed water, which means it provides everything that green tea delivers – but with a much higher potency."