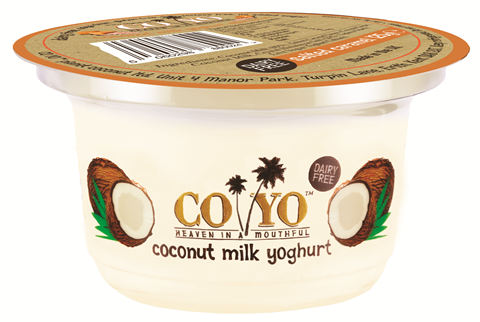 Coconut yoghurt brand Co Yo is expanding its range with a salted caramel flavour.

Rolling out from the end of January in Waitrose, Planet Organic and Whole Foods Market, the dairy-free dessert is available in a 125ml pot (rsp: £1.99). It is made with coconut milk, coconut sugar, and Himalayan salt crystals.

"Our consumer feedback has shown us that customers are looking for more dairy-free options in the dessert category and more healthy alternatives to indulgent desserts," said Co Yo's UK founder Bethany Eaton. "Our natural ingredients provide a great-tasting option for those looking for something that tastes delicious and uses only the finest natural ingredients."

Co Yo's product is one of a number of launches and listings this month that suggest consumer interest in coconut products is soaring. Rival coconut yoghurt brand The Coconut Collaborative is today launching its first dessert pots - Choco Pots and Rice Pudding - in Whole Foods Market, while Vita Coco is expanding its range with a Tesco-exclusive chocolate flavour coconut water.

On 7 January, Aldi launched Coco Loco coconut oil (rsp: £3.99/300ml), and Lidl is due to follow suit at the end of the month with Deluxe Raw Organic Coconut Oil. The Groovy Food Company last week launched its coconut flour in Tesco, following recent listings in the mults for rival brands Biona and Sukrin.

Co Yo's existing range, which includes natural, vanilla and chocolate, is listed in retailers including Waitrose and Tesco.