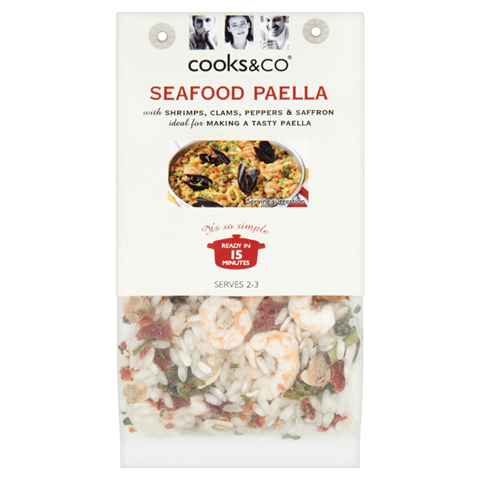 RH Amar is expanding its Cooks&Co range with five meal solutions and a mushroom spice grinder.
The Mixed Forest Mushroom grinder (rsp: £3.49/19g) contains small pieces of dried mushroom that can be ground onto food in the same way as pepper. It is designed as a way to add a strong mushroom flavour to a dish without the need to soak dried mushrooms in advance.
The meal solutions, meanwhile, include Seafood Paella (rsp: £2.49/190g), Lemon & Pea Risotto and Mediterranean Risotto (both rsp: £2.19/190g) - each a mixture of uncooked Carnaroli rice with other dried ingredients. The meals serve 2-3, take 10-15 minutes to cook and are prepared by adding water, butter, grated parmesan and optional wine.
The other two products are side dishes countryman's polenta, with rustic vegetables and herbs, and porcini polenta, with mushrooms (both rsp: £1.99/150g). Each cooks in 10 minutes and serves 2-3 as a side dish.
"The dry rice category currently offers poor choice and inspiration for health conscious foodies," said Cooks&Co brand manager Anne-Marie Cannon. "Our new range uses top quality ingredients, is free from added salt, additives and preservatives and is naturally low in fat.
"It's tailor made for aspiring scratch cookers that seek healthy restaurant quality meals. As the range needs few additions, they make great store cupboard staples for last minute yet delicious meals."
All six products are available in Ocado from May.