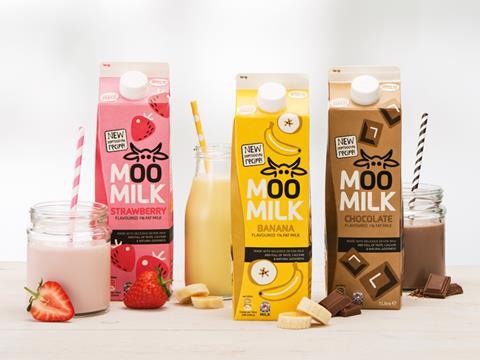 Crediton Dairy has kicked off a long-term programme to cut sugar in its products by reformulating its entire Moo and own-label flavoured milk range.

The Devon-based ­processor has responded to the ongoing sugar debate, and similar moves by the Yazoo brand planned for September, by reducing the amount of added sugar across its products by an average of 30%, representing some 27 ­million teaspoons of sugar, based on 2015 ­production volumes.

The new Moo recipe, which goes on sale next week, contains 8.5g of sugar per 100ml in strawberry and banana flavours, down from 9.8g. Moo's fudge brownie drink now contains 9.8g (down from 11.3g), while its chocolate drink has seen sugar content fall from 11.3g to 9.1g.

"Our goal was to remove the greatest amount of added sugar without compromising the taste or sweetness of Moo and we think we have achieved this," said Crediton head of sales and marketing Nick Bartlett. "Our no-compromise approach also included a determination not to use artificial sweeteners to reduce the added sugar content as others in the market have done."

This was only the "first step" in sugar reduction for Crediton, he added. "We will continually look at ways to reduce sugar further in both Moo and other branded and own-label flavoured milks."

It comes as Crediton announced the launch of a range of Moo Limited Editions in one litre pack sizes, with a vanilla variant launching this summer, followed by caramel in the autumn.