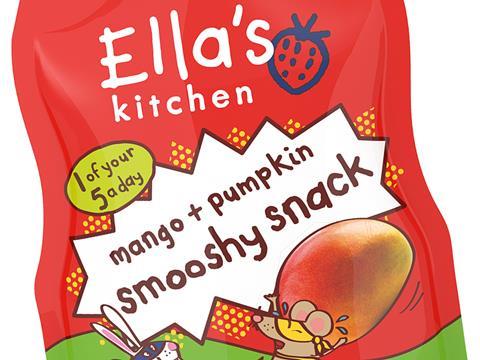 Ella's Kitchen is expanding its snacks range with its first products for three to five-year-old children.

Rolling into Sains­bury's next week, Kids' Snacks includes seven varieties in two formats. Smooshy Snacks (rsp: £3.49/4x100g) are pouched fruit and veg smoothies in four flavours: mango & pumpkin, orange & carrot, strawberry & beetroot and apple & cucumber. F; Fruity Bars (rsp: £2.50/5x20g) are a mixture of fruit, crisped rice, oats, flaxseeds and coconut, and are available in three flavours: Briiilliant Banana & Raisin, Pow Powww Pineapple & Coconut, and Rrrocketing Raspberry & Mango.

The packaging for both ranges features comic strips starring superhero characters, while packs contain pull-out superhero masks and collectible pop-out finger puppets. "We're so excited to be launching the new Kids' Snacks range," said Mark Cuddigan, head of Ella's Europe. "Hero-ing the importance of introducing veggie tastes from a young age, we can't wait for our big taste testers to engage with all the fun and interactive elements that the products provide."

Ella's last spring launched a 10-strong range of snacks for toddlers including multigrain nibbles, cracker bites, multigrain sticks, and spelt cookies.