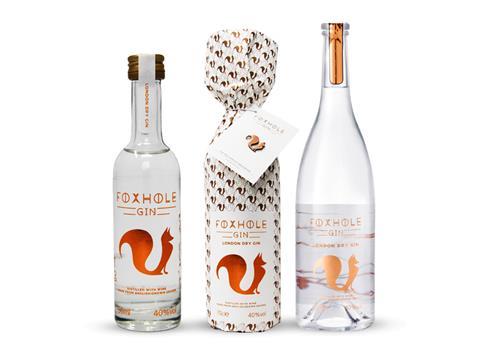 Trendy tipple maker Foxhole has unveiled a range aimed at Christmas shoppers.
The brand has launched the third iteration of its popular Foxhole Gin, called Marc 3 (40% abv), which is made using pressed grapes thrown away by wineries (rsp: £40/70cl). It is infused with juniper, coriander, angelica root, orris root, liquorice root, orange, lemon and grapefruit zest, and diluted with natural spring water. It takes its name from Foxhole Lane, which leads to the vineyard from which its grapes are sourced.
Foxhole has also created a Marc 3 limited edition gift pack featuring a copper foil paper wrap and a Foxhole Spirits pin badge (rsp: £45). The limited edition pack was "an understated and elegant take on the traditional gift box" said the brand.
It has also added a 50ml miniature bottle, billed as a "fun and festive" stocking filler that brand co-founder James Oag-Cooper said would "offer a fun introduction" to Foxhole (rsp: £6.95).