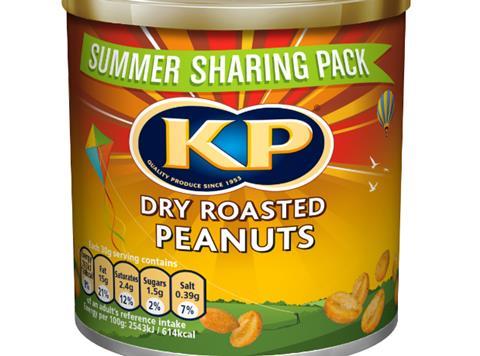 KP Snacks plans to attract new consumers and tap demand for shareable snacks with the launch of a limited-edition caddy of nuts.
Rolling outy in May, the 300g pack – in Original Salted and Dry Roasted variants – was "well-positioned to bring nut consumption to new daytime occasions" in the summer such as home barbecues, said KP. "Seventy-six per cent of people now spend most of their leisure time at home," it added, noting "71% of impulse occasions containing alcohol include at least one snack product".
The NPD is the first move by KP Nuts to expand its appeal – especially with younger shoppers and women. The brand is set to introduce new flavours and return to TV after 35 years, in moves that were "very considered", said Andy Riddle, branded sales director at KP Snacks.
Targeting a broader audience had to be done "in a very sensitive way", he told The Grocer. "You've established a core consumer over time, and if you lurch too quickly to something completely different, you're in danger of falling off a cliff while chasing a new consumer type."