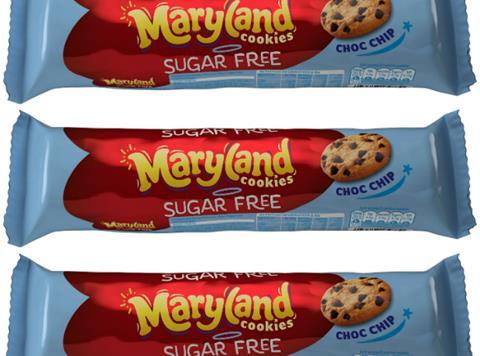 Maryland Cookies has become the first mainstream biscuit maker to launch a sugar-free variant, as it focuses on its core cookies following a slump in value.
Sweetened by maltitol, the NPD was aimed at "consumers looking to reduce their sugar intake" said brand owner Burton's Biscuit Co. However, it was still meant as an everyday treat, not a healthy product. At 434 calories per 100g, it is 11.6% lower than the 491kcals of Maryland's standard cookies – but it is marginally higher in satfat at 11.4g per 100g.
The launch of Maryland Cookies Sugar Free followed two years of work by Burton's on sugar reduction, said the supplier's marketing and insight director, Kate Needham. The company wanted to bring "fun and warmth" to the "pharmaceutical-looking" sugar-free biscuit segment. "Far too many sugar-free options across many categories are regarded by consumers as boring and bland," she added.
Sugar Free will roll out early next month with an rsp of £1.39 for 230g – the same price and weight as the core Maryland SKU.
Burton's expects the new product to be ranged in the sweet biscuit aisle either with the rest of the Maryland range or alongside sugar-free rivals such as Siro, Gullon and Free'ist. "We're in a bit of a test-and-learn period," Needham said. "Nobody really knows where the optimal place in store is."
Sugar Free will be marketed at "health-conscious mums" with a focus on social media, where the brand intends to engage with users through Cancer Research UK's #SugarFreeFeb hashtag.
It comes after a turbulent 2018 for Maryland, which saw its value plunge 9.2% in grocery (excluding discounters and value stores) to £40.2m [Nielsen 52 w/e 8 September 2018]. In a move to revive sales, the brand has focused on its core lines and Minis, axing ranges including Crispies, Creations and Thins (which made their debut just 18 months ago).