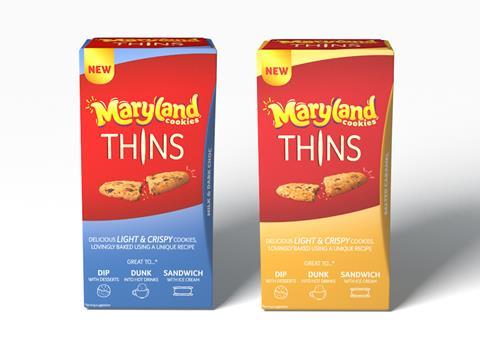 Burton's Biscuit Company is tapping demand for lighter snacking options with the addition of Maryland Thins.
Aimed at shoppers aged 25 to 45, the biscuits, made in Burton's Blackpool facility, are 20% slimmer than a standard Maryland chocolate chip cookie, weighing 8g.
Available in two variants, Milk & Dark Choc Chip and Salted Caramel (rsp: £1.49/128g), sugar and calorie content per 100g is comparable with the core range at 26.9g and 495kcal for the choc chip option.
The launch follows Maryland's introduction of Crispies in March, while rival McVitie's launched Digestives Thins in January.
Maryland Thins would "enable retailers to attract younger shoppers into the category through new and exciting products targeting afternoon snacking; the second-biggest occasion for cookies," said Mandy Bobrowski, UK & Ireland marketing director at Burton's.
The NPD will land on shelf this month together. The revamped pack design will roll out across the rest of the portfolio throughout June and July, supported by digital and social media activity, and TV advertising scheduled for early 2018.
The makeover would ensure Maryland remained "relevant and contemporary, improving standout on shelf and in turn, enabling shoppers to better navigate the fixture, while reinforcing the message of Maryland as cookie experts", Bobrowski said.