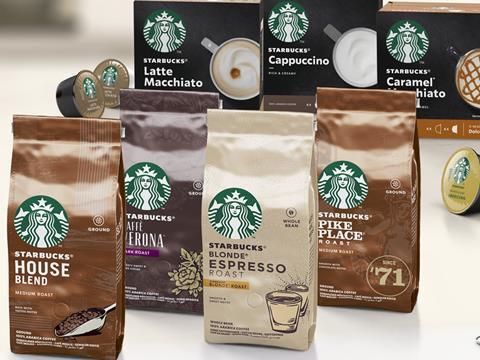 Nestlé has announced the launch of its first coffee products for grocery under the Starbucks brand.
Unveiled this afternoon (13 February), the 24-strong lineup comes six months after Nestlé completed its $7.1bn (£5.5bn) deal last August to acquire the perpetual global licence to produce Starbucks-branded consumer and foodservice products. The deal includes roast and ground coffee, portioned and soluble coffee, teas and creamers, but not RTDs or sales of any products within the Seattle coffee giant's stores.
The new lines include whole bean and ground, as well as the first-ever Starbucks capsules developed using Nespresso and Nescafé Dolce Gusto proprietary technologies.
The range features a variety of signature Starbucks blends and single-origin coffees, as well as a selection of "classic beverages" such as caramel macchiato and cappuccino. All are made from 100% ethically sourced arabica beans.
Nestlé will begin rollout "in coming days" across Europe, the US, Latin America, the Middle East and Asia. The hot beverages would be "widely available in grocery stores and major online platforms" said the Swiss food and drink giant.
Starbucks and Nestlé had "done an outstanding job in just six months developing a range of new and exciting premium coffees" said Patrice Bula, executive vice president, head of strategic business units, marketing, sales & president of Nespresso.
The new drinks combined "Nestlé's coffee and system know-how with Starbucks' coffee, roasting and blending expertise" he added.
Today's launch "further extends the global reach of the Starbucks brand as we expand into new channels" said John Culver, Starbucks international group president for channel development & global coffee & tea.