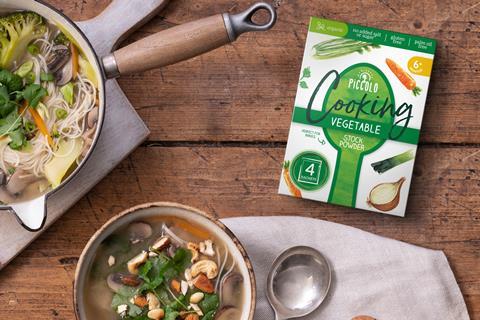 Upmarket baby and toddler food brand Piccolo has created what it claims is the first-ever stock sachet to contain no added salt or sugar.
The brand, which already sells single stock cubes, is launching a trio of powdered stocks – beef, vegetable and tomato & basil – in palm oil-free sachets, exclusively into Boots.
They are billed as being more convenient for parents and, at 10g each, slightly larger than their cubed counterparts. They had been created "without compromising on the taste" despite their no added sugar and salt credentials, said the brand (rsp: £1.80/four sachets).
"We've seen that many parents have been enjoying cooking but also finding it difficult to come up with new ideas," said Piccolo founder Cat Gazzoli. "We want to continue supporting parents as best we can in their efforts to cook at home, and encourage a more nutritious approach to feeding their little ones."
Recent research by the brand showed more than half of its shoppers already chose Piccolo because of its low sugar and salt content, she added.
The launch marks the latest in a series of big moves for the brand: in April, for instance, it launched a 100% recyclable babyfood pouch.
February saw it expand into baby formula with a trio of baby milks, backed by a substantial £2m marketing push.