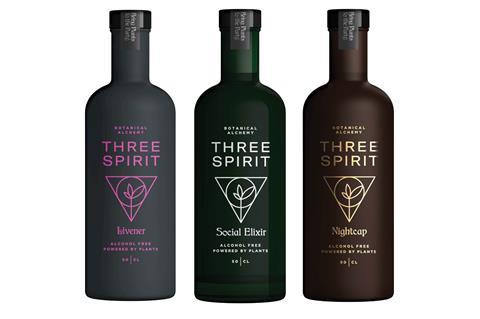 Planet Organic has begun selling non-alcoholic spirits with a trio of drinks from fledgling brand Three Spirit.
Three Spirit's trio – called Social Elixir, Livener and Nightcap – have rolled into the retailer. As well as being Planet Organic's first non-alcoholic spirits range, it marks the brand's debut in multiple retail (rsp: £24.99/50cl).
"That Three Spirit's drinks are functional, that they have an effect, but that they contain no alcohol, makes them interesting and innovative too," said Planet Organic buying director Al Overton.
"On top of that, Three Spirit is serious about plant science and takes a considered approach to ingredients and potential health benefits, all of which makes them a great fit for Planet Organic. Happily, we think they taste delicious too."
Social Elixir launched in January this year, while Livener and Nightcap launched just last month.
Three Spirit said the new duo would "take drinkers from the start to the end of their evenings", and that they would target "people who love to go out, let their hair down and have fun, but who still want to be on form the next day".
They had been created in response to "the growing trend of the sober-curious consumer" who was looking for "exciting, functional alternatives to take the edge off".
It said the concept of "micro-dosing" alcohol alongside other options "such as CBD, mushrooms, adaptogens and caffeine" was "exactly where Three Spirit sits", offering "a third way between drinking and not drinking".
However, not every retailer is embracing the trend with open arms. Rival Whole Foods Market, for instance, told The Grocer it had refused to list many low and no drinks due to concerns over ingredient quality.
Whole Foods currently stocks a small range of low and no-alcohol brews, but its product co-ordinator Nicole Casey said it could not accept "some of the additives and some of the flavourings" which had "unfortunately been a disqualifier with some of the emerging brands".