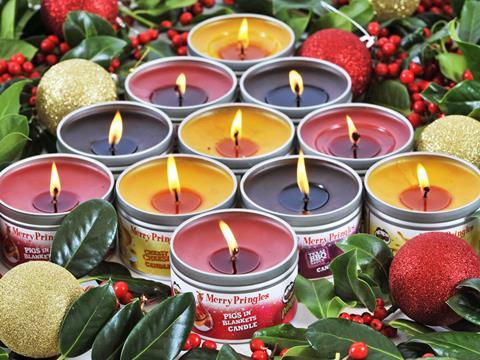 Pringles has developed a range of scented candles featuring the smells of its savoury crisps.
The three-strong line comes in Pigs in Blankets, Cheesy Cheese and Texas BBQ variants - each boasting the same savoury scent as the Pringles flavour it is based on.
A batch of 500 candles, which has been delivered to 'lucky testers', has been produced for this year, with plans for a "much larger run" to be rolled into stores for Christmas 2016, pending the initial reception, said Kellogg's.
The trio would help create the "perfect festive atmosphere", said brand manager Louise Thompson Davies, adding the NPD would tap into the annual festive sales boost of Pringles.
"Sales of Pringles soar by almost 150% at Christmas time when everyone's enjoying parties and catch-ups with their friends and family," she said, revealing that the candles were "particularly pungent".
"There might be a need to scale back on the odour before unleashing them on a mass scale next year."