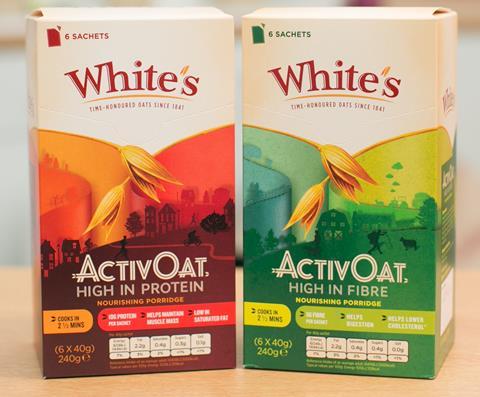 Northern Irish cereal supplier White's Oats has added high-protein and high-fibre porridges to its portfolio.
ActivOat High Protein Porridge is being rolled out now in two variants – original and apple & cinnamon - alongside ActivOat High Fibre Porridge, which is available in original flavour only (rsp: £2.49).
Targeted at consumers focusing on 'active healthier lifestyles', the protein product contains 10.5g of protein per 40g, while the high-fibre product contains 5g of fibre per serving – more than double the amount of standard porridge, said brand manager Danielle McBride.
"We developed our protein porridge to provide all the key nutrients from oats with the addition of soy protein to deliver a high nutritional boost," said McBride.
The products are currently available from Tesco and Asda in Northern Ireland, and White's plans to launch in the UK later this year.