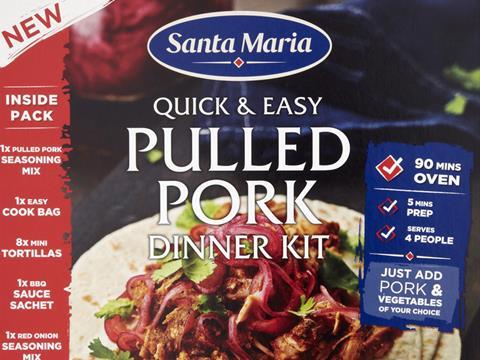 Flavourings specialist Santa Maria is bringing the pulled meat trend to the meal kit fixture.

The business is looking to tap booming demand for US-style smoky barbecued meat with the rollout of two new kits - one for pork and one for chicken - to Morrisons stores later this month.

Each kit (rsp: £3.99) contains a sachet of 'smoky and spicy' meat seasoning mix, an ovenproof cook bag to infuse the flavours, barbecue sauce, red onion seasoning and eight mini flour tortillas. Consumers need to combine the ingredients with meat and red onions. Santa Maria said no overnight marinating was required, and claimed the meat needed to be cooked for just 90 minutes rather than the four hours needed for a typical slow roast.

"The UK has gone wild for the American style of barbecuing meat and slow cooking for an intensely smoky flavour," said UK marketing manager Bhavika Thakrar. "We have unlocked a great meal with a tender texture and smoky taste without fuss."

Earlier this year, AHDB revealed a pulled pork-themed campaign had driven a 37% increase in pork shoulder volumes, with value up 36% [Kantar 4 w/e 24 May 2015].

Finnish business Santa Maria will be supporting the launch with in-store, PoS, digital, social media and PR activity.

Santa Maria was last year embroiled in a nut allergy scare that resulted in a raft of its products containing paprika being recalled. Scientists this week revealed they had refined tests for nut protein in spices.