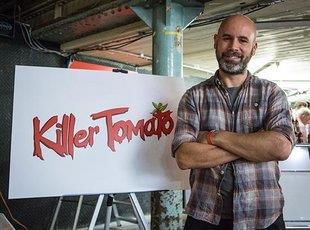 An entrepreneur is hoping to bring street food burritos to retail under his Killer Tomato brand.
Matt Paice, who currently sells burritos at London markets and corporate events, is discussing the autumn rollout of three chilled burrito kits for two (rsp: £7/serves two) with Ocado. Flavours will include slow-cooked pork pibil and roasted sweet potato and feta, and ancho chilli beef shin. Killer Tomato is sold at markets in Dalston, Model Market and Leather Lane, in London, and supplied to corporate clients including Lush Cosmetics and Nike.
Dubbed by Metro the man behind 'the best burrito in London', Paice founded Killer Tomato in December 2013 having previously worked as a chef in restaurants including Rock Lobsta and The Brackenbury.
"The ready meal market is incredibly competitive, but as street food traders we've got the scars on our back from competing with other traders to get noticed, and we've learned the hard way about the importance of branding," he said. "The street food feel is going to come from the recipe combinations and custom-made sauces that have been tried and tested on the streets, so you can recreate the experience at home without the queues." He said street food was shifting from a "London trend to a nationwide love affair", making this the right time for a supermarket launch.