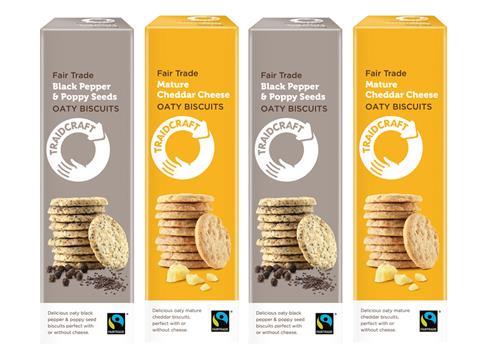 Fairtrade retailer Traidcraft has launched a savoury biscuit range, which it claims is a first for the fairtrade category.
The new Oaty Biscuits range has two variants: Mature Cheddar Cheese and Black Pepper & Poppy Seeds.
Among the ingredients are fairtrade rice flour, pepper and organic palm oil. The company said that although many biscuits on the market currently contained palm oil, Traidcraft's were the first in the UK to contain its "pioneering" FairPalm.
"At Traidcraft we have decades of experience in developing and innovating new fairtrade products, and we're really excited to be launching yet another fairtrade first for the UK in our new savoury biscuit range," said product marketing manager Jenny File. "We've had fantastic feedback on our biscuits so far and we are confident they are set to be another great fairtrade product in our range."
The biscuits are available direct from Traidcraft or from Traidcraft stockists at £2 per box.