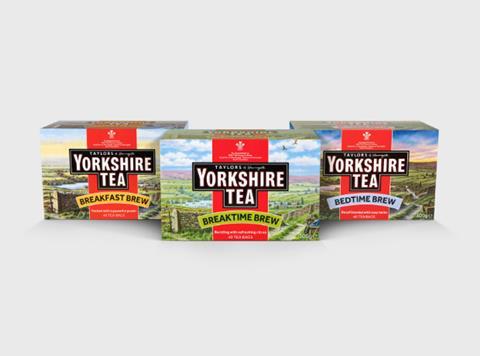 Yorkshire Tea is to launch three speciality black teas to tap consumers' thirst for exotic blends and fruit infusions.
The Harrogate brand used consumer insight to develop three SKUs offering a "new and exciting black tea proposition", according to assistant brand manager Beccie Deighton.
Rolling out this month, the new variants (rsp: £2.29/40 bags) each feature a different pastoral view on packs. They comprise Breakfast Brew with an 'extra powerful punch of Assam'; Breaktime Brew, with orange and lemon flavours for a 'sunny slice of citrusy refreshment'; and Bedtime Brew, a decaffeinated tea blended with lemon balm and nutmeg.
"While black tea consumption continues to be huge, consumers are increasingly expanding their hot drinks repertoires to meet specific needs currently unfulfilled by black tea," added Deighton.