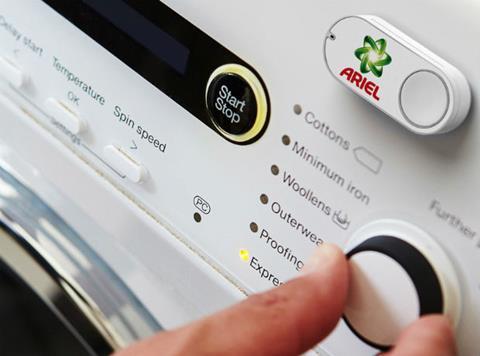 Amazon has doubled the number of Dash buttons available in the UK to include brands such as Bold, Nescafé, English Tea Shop and Head & Shoulders.

A year after the instant ordering buttons were first introduced into the UK, there are now 100 participating brands from categories including petfood, bottled water and babycare.

Announcing the extension, Amazon also shared its first take-up figures for Dash buttons in the UK.

The retail giant revealed toilet roll was the most popular item ordered via Dash button, having been used to order 300,000 rolls since the end of June. Enough coffee to more than 160,000 cups has also been delivered via Dash button.

The most popular Dash button brand is Finish, followed by Tassimo, Ariel and Duracell.

Amazon Dash buttons use wi-fi technology to place an order with just one press and cost £4.99, a charge that is refunded after the first use. Dash customers who have a Prime subscription can get their item delivered to their doorstep the next day free of charge.

The technology made its debut in the US in 2015 and Amazon says today one order is placed via a Dash button there every 30 seconds.