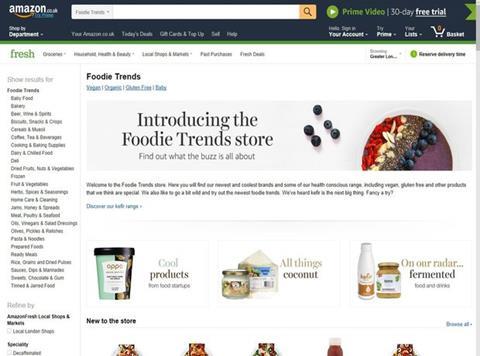 Amazon Fresh has launched a 'foodie trends' section on its site with exclusive and startup brands.

The section includes foods that Amazon has identified as the 'newest and coolest' on the market, including coconut-based products, high-protein foods and fermented produce.

Among the listings are niche brands such as 'healthy' ice cream Oppo, sold in Waitrose and Ocado, and nut butter specialist Pip & Nut.

Amazon Fresh has also secured exclusive listings with companies such as My Healthy Kitchen, a ready meal supplier that produces 'global' dishes such as Moroccan Prawn, Oriental Chicken and Prawn Katsu.

Last month, The Grocer reported that Amazon customers favoured niche brands such as Lindt and Ciroc over category favourites like Cadbury and Smirnoff.

E-commerce analytics company Profitero, which complied the data, said this was down to online retailers such as Amazon providing an opportunity for smaller, "challenger" brands.