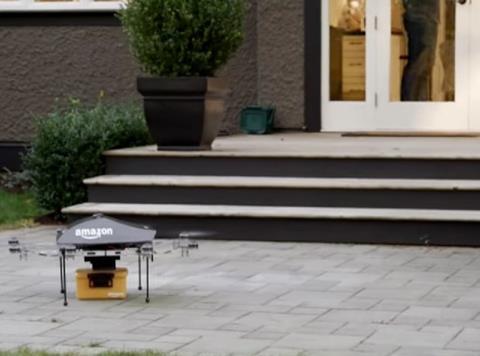 Amazon has received the green light to start testing drone delivery in the UK.
The online giant received permission from the UK government to test the technology, which could eventually enable it to make deliveries within the space of 30 minutes.
The government agreement means it can trial drones beyond its line of sight in rural and suburban areas, test their sensor performance to ensure they can avoid obstacles and use one person to operate multiple drones.
The go-ahead comes a year after the retailer published two new position papers outlining its proposals for drone design, which advocated modifying the way airspace is used and proposes a series of height limits for drones.
Amazon said the ability to test the model brought it "closer to its goal" of rolling out a Prime Air service, which would use drones to deliver parcels weighing up to five pounds in half an hour or less.
Although it has not yet revealed which products could be eligible for the service, the name suggests it could include products currently available for Prime delivery. These include "a range of chilled and frozen" food products such as chocolate and fresh milk.
Amazon said drone technology had the potential to benefit consumers, industry and society.
"Using small drones for the delivery of parcels will improve customer experience, create new jobs in a rapidly growing industry and pioneer new sustainable delivery methods to meet future demand," said Paul Misener, vice president of global innovation policy and communications at Amazon.