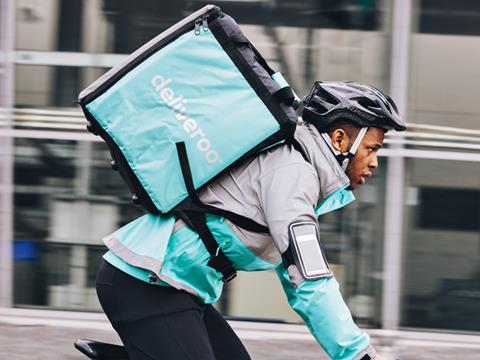 Deliveroo is taking a further shot at the office trade by launching employee gift cards.

From next month, the food delivery service will offer gift cards for its business customers, designed to be given to employees as a reward.

Employers can apply spend limits and time and location locks, enabling them to specifically reward early and late workers.

The initiative is part of Deliveroo's business arm, which launched in September in response to "huge" demand from city workers to order food from their desks. Deliveroo for Business offers corporate customers their own account managers and features such as location locks and time-triggered allowances.

Deliveroo said the service had "grown significantly in all areas" since the launch. Large platters had proven particularly popular, it said, with 64% month-on-month growth over the past six months.

Its top five most popular platters include a gyoza platter and a vegetarian Indian sharing plate for two. The most popular individual dishes include Sri Lankan chicken and a chicken and chorizo hot box.

Dan Warne, Deliveroo's managing director of UK and Ireland, said: "We've seen huge interest from businesses across the country for Deliveroo for Business and we're thrilled to be able to offer a new way for companies to reward their workforce.

"Whether its part of a starter pack for new employees, a reward for hard work or a way for companies to celebrate birthdays and work anniversaries, we think Deliveroo for Business customers are going to love our new gift cards," Warne added.