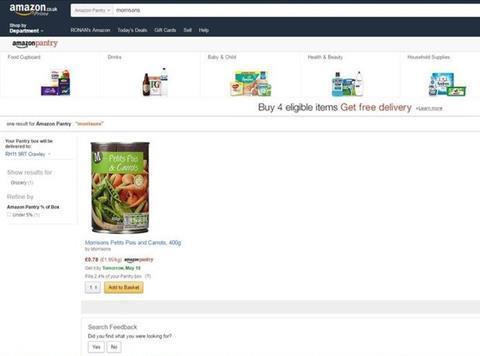 The first Morrisons own label product has become available on Amazon Pantry this morning.
So far there is only one line available, a 400g tin of Morrisons petits pois and carrots, priced at 78p. This is the same price as Morrisons is selling the product for on its own website.
It is available for next day delivery and one tin would make up 2.4% of an Amazon Pantry box. The online retailer charges £2.99 for the first Pantry box in an order and 99p for any extra boxes.
Many more Morrisons lines are expected to follow shortly. Two weeks ago Morrisons CEO David Potts said he expected the products to appear imminently, as it had already shipped 800 ambient grocery lines to Amazon.
It is also expected that Amazon is also set to begin selling Morrisons fresh and chilled products within the next few days. Last week it erroneously listed a number of Morrisons lines such as bananas and milk with sky high prices. The products were quickly removed from the website after the mistake came to light.