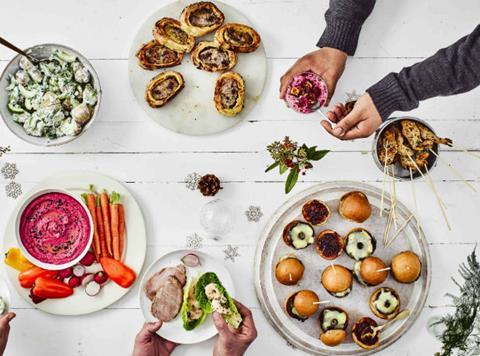 Gousto is launching a festive recipe box to tap the Christmas entertaining market.

The new Get-Together box, launching on 14 November, contains eight seasonal recipe cards and pre-measured ingredients, with free home delivery.

The range includes balsamic & redcurrant glazed smoked pork loin; pork, sage & cranberry sausage rolls; chargrilled herby lemon chicken skewers; and king prawn cocktail cups.

Also included are caramelised mushroom & cheddar brioche sliders; Scandi-style potato & dill salad; beetroot houmous & baby vegetable crudités; and brownie & berry possets with honeycomb.

Gousto's Get-Together box also provides a party preparation guide and "fun" activities.

Each box serves up to eight guests for £74.99.

"At Gousto we're customer obsessed - they speak, we listen," said Gousto CEO and founder Timo Boldt. "Unlike other Christmas recipe boxes, we're giving customers what they want: a recipe box that caters for the entire seasonal period, offering simplicity and convenience at a great price.

"We already present the world's leading meal kit proposition offering the most choice (22 recipes per week), most delivery options (every day of the week), lowest price (from £2.98 per meal) and shortest lead time (three days) with our standard box."

The move follows HelloFresh's launch of its festive box last month, which includes recipe cards and all the ingredients required for a family Christmas dinner.