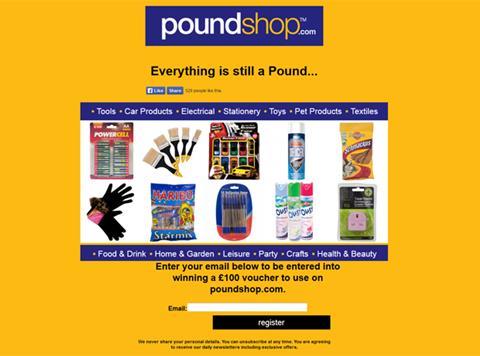 Poundworld has revealed it is withdrawing its involvement from Poundshop.com after just six months.
The website was jointly launched in February this year by Poundland founder Steve Smith and Poundworld.
Poundworld said there had been a "mutual agreement to dissolve the partnership", following its "ongoing concerns surrounding the operations, online trading, web platform and marketing of the site".
"A mutual and constructive decision has been made by both parties for Poundworld to end its association with the Poundshop.com brand," Poundworld trading director Chris Edwards Junior confirmed.
"We are still committed to online and Poundworld is putting plans in place to go it alone with our own online venture. By doing so, this will enable us to have full control over all aspects of the business ensuring that the site reflects our ongoing brand values and strategy.
"We wish Steve every success for the future," he added.
Poundworld's involvement in the site was to lend its branding to the website, supply stock and provide product images. Other aspects of the business – including operations, fulfilment, customer service and marketing – were led by Smith.
Poundshop.com crashed on its opening day due to "unprecedented" traffic after the site was mentioned on the BBC TV show Pound Shop Wars.