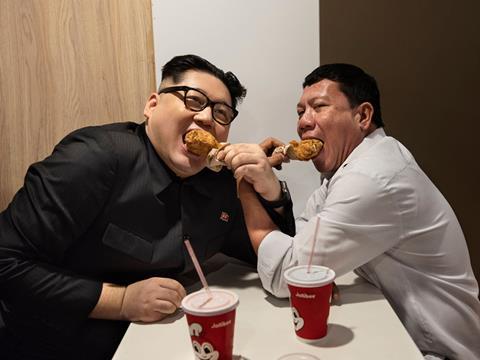 Filipino president Rodrigo Duterte recently had cause to dispel rumours of his death. So an already confused populace were doubtless further bewildered when the prez appeared to tour Hong Kong last week in the company of North Korean leader Kim Jong-un.

The pair - who were of course in fact a couple of lookylikeys - showed up in the city to meet/cause chaos with locals and the Filipino migrant worker community.

Jollibee - the Filipino fast food chain with designs on global expansion - will doubtless be grateful for the free promotion the lads provided by popping in for a fried chicken-munching photo op.

The real Kim, meanwhile, is more likely concerned with the latest foodie development on the home front, where it's claimed scientists have come up with edible clothes, made from protein, amino acids, fruit juice, magnesium, iron and calcium, apparently designed so imperilled sailors, climbers and the like can munch their threads to avoid starvation.

Send us some pants, Kim!