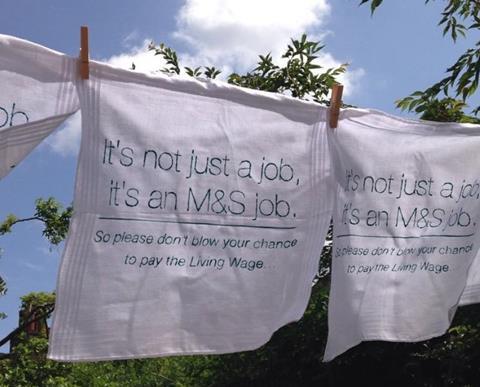 Board members arriving at the M&S Annual General Meeting at Wembley Stadium today were presented with an embroidered message calling for the retailer to pay the Living Wage.
Members of ShareAction have joined forces with the Craftist Collective, which uses craft as a tool for activism, to produce the hand-stitched messages via a series of 'stitch-ins' up and down the country which will be delivered to the retailer's 14 board members, its largest shareholders, and celebrities appearing in its ad campaigns, such as Annie Lennox and Emma Thompson.
Each message called for the grocer to pay its staff the Living Wage, a figure of £7.85 per hour in all areas other than London, where the amount is set at £9.15. This is in contrast to the current hourly Minimum Wage of £6.50.
Of the action Sarah Corbett, founder of the Craftist Collective, said: "Marks and Spencer is supposed to be a company with solid values, which includes paying your workers fairly."
The action comes as part of ShareAction's campaign, in partnership with Citizen's UK, to achieve the rise in pay across the FTSE 100 through shareholder activism.
The group also plan to lobby Sainsbury's to adopt the Living Wage during their agm tomorrow, at the Queen Elizabeth II Conference Centre in Westminster.