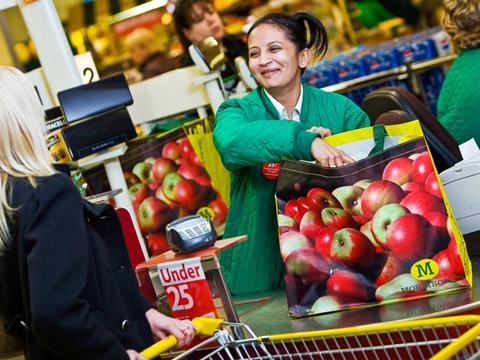 Morrisons is to become the first major mult to pay staff the wage set by the Living Wage Foundation after announcing a 20% rise to its minimum hourly rate today.
More than 90,000 staff at the supermarket will benefit from the pay rise to a minimum of £8.20 per hour from March 2016.
The announcement matches the pay rise announced by Lidl earlier this month for 17,000 members of staff.
Both retailers are now in line with the recommendations of the Living Wage Foundation, which currently calls for employers to pay a minimum of £7.85 per hour, although it is expected to announce an increase to that figure later this year.
"We have been listening to our colleagues who told us they want their pay to be more competitive and simpler," said chief executive David Potts.
"By paying a significantly higher hourly rate, we are recognising the contribution of our excellent staff, who are so important to the revival of Morrisons."
The move will cost Morrisons more than £40m.
Sunday pay rates will be scrapped as part of the new pay deal, and other premiums will be "simplified".
The new pay rate will be introduced one month ahead of the government's compulsory National Living Wage, which requires all employers to pay staff aged 25 and over a minimum hourly rate of £7.20 from April 2016.
Morrisons say the shop worker's union Usdaw is supporting the pay move and recommending it to its members.