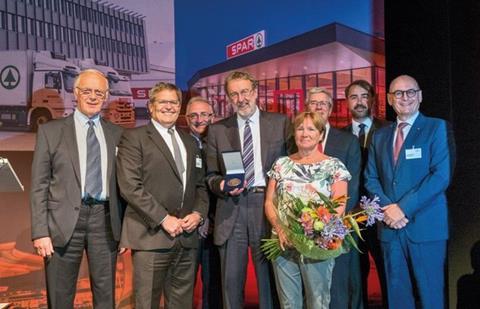 The managing director of wholesaler AF Blakemore has been presented with Spar's highest award, the Adriaan van Well Medal.

Peter Blakemore received the honour for his outstanding contribution to the convenience store chain.

He joined the wholesaler in 1965, which employs more than 8,100 people and owns 300, and works with 800, Spar convenience stores.

Spar said Blakemore had played an integral role in the convenience store chain's growth.

The award has only been handed out 23 times in Spar's 85-year history and is named in honour of its founder, Adriaan van Well.

"Peter has contributed greatly to Spar in the UK and internationally," said Spar managing director Tobias Wasmuht.

"His extraordinary energy and enthusiasm and commitment to his colleagues, his customers, his community and Spar International exemplifies this principle."

It was also announced that Blakemore is to stand down as a member of Spar International's board after 12 years.

He has been a member of Spar UK's board for more than 40 years, serving half as its chairman.

James Hall & Co managing director Dominic Hall will replace him.

The appointment was made at Spar's shareholders meeting in Gran Canaria on 17 May.