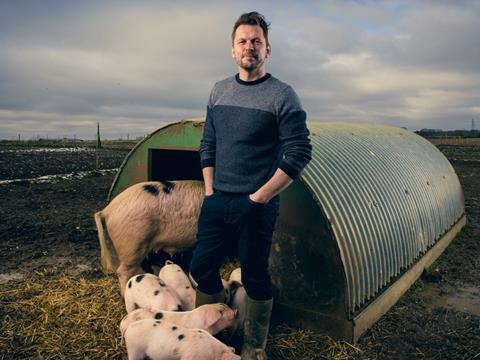 Making the leap from academic to first-time farmer to TV personality is not something Jimmy Doherty had planned on. He was partway through a PhD in entomology in 2002 when a friend asked him to take part in a pilot TV show on infectious diseases. He received £50 and forgot all about it. Then the BBC asked him what his future plans were.
"I had decided to leave academia. I loved the natural world, but it had turned all the colour and vibrancy into reams of statistics. And I'd read a book by John Seymour called 'The Complete Book of Self-Sufficiency', which sold me a beautiful, idyllic dream, but I didn't want it to be a hobby. I wanted it to be a business and for that business to be sustainable."
snapshot
Age: 42
Family: Married with three children aged seven, five and two, with a fourth on the way.
Potted CV: Degree in animal biology at the University of East London; worked in the entomology department of the Natural History Museum. Part-way through studying for a PhD in entomology he left to start Jimmy's Farm and now holds four honorary doctorates
Business hero: Turkey farmer Paul Kelly. He successfully turned around a struggling family business
Business ethos: Better to live with failure than regret
Best advice: A farmer we knew as 'Mo' said 'no matter how hard it gets, remember to appreciate what's going on'
Favourite book: Journey to the Ants by EO Wilson. He discovered a new species of ant in his office
And so the idea for 'Jimmy's Farm' was born. The first show screened in 2004 and carried on for two years, tracking Doherty's efforts to build a successful rare breed pig farm from the ground up. The eponymous Suffolk farm now supplies restaurants, retailers and even nearby Ipswich Town Football Club with its meat. In the process, the likeable Doherty has carved out a TV career for himself.

Even as we speak, a production crew arrives from Channel 4 to chat through a new series, and two of his PR team are drinking coffee in the on-site café with an agent. But though that first big break undoubtedly propelled Doherty into the limelight, it was a mixed blessing, casting him forever as 'Jamie Oliver's mate' thanks to the very public £55k loan from the Naked Chef to get the business started. "I've learned to live with it, but I'm more annoyed for my other friends," Doherty laughs ruefully. "They're like 'I gave him advice, too'."

The series came close to positioning him as a naïve ingénue, up to his neck in pig muck and without a clue. "They must have thought 'this is a goldmine - he's an idiot'. They'd come up and stand by the fence to watch me fall over chasing chickens. But it wasn't an act. It was real life."

Doherty readily admits that growing the business from 'four pigs to 40' was not easy. But The Essex Pig Company now employs 40 staff, has a restaurant, a shop and a butchery, as well as a farm and wildlife park that is home to rare breeds and exotic animals.

On the supply side, the farm has a deal with Costco, which proved useful when a deal with Tesco to produce turkeys came to an end. The wholesaler sells complete products, rather than using meat from the farm as constituents, and the hope is that its newly acquired SALSA (Safe and Local Supplier) certification will attract more interest. There is a real sense of optimism around the farm - and Doherty himself.

Halfway through the interview, two livestock specialists arrive to talk about inseminating cows. Doherty listens and responds intelligently and with humour. A moment later, Doherty is accosted by his head butcher, Jonny Farrell, who has his own pressing concerns.

"It's like spinning plates," he admits. "The business takes a lot of running and it's so diverse. Added to conversations about breeding programmes and talking to butchers are nigh-on constant TV appearances, from Friday Night Feast with Jamie Oliver, now in its fifth series, to Food Unwrapped, which sees Doherty travel the globe tracking down the secrets of the supply chain.
CCTV
But Doherty has developed some ingenious ways of keeping track of the business throughout. "I have CCTV on my phone," he says. "That allows me to look at the business and what people are doing and makes me feel involved. I'm always on the phone and my wife is here every day. She's integral and we're always available."

Doherty and his team are keen to scale up, too, adding an online farm shop to the offer in 2015, with BBQ selection boxes, free-range chipolatas and treacle bacon all on sale on the website. "We'd always done meat but while we cater to local customers, we haven't been very good at pushing online sales," he says. "We now have a brand known around the country and the infrastructure to cope with an increase in online orders. We can promote ourselves and other farm shops.

"Online sales have great potential," he goes on. "For a farmer like me it allows me to get my product direct to the customer, extends our customer base and to pinch some of what the supermarkets have."
Wake-up call
And with scandals rife in the meat industry right now, the assured provenance of dealing direct and the trustworthiness of the brand with a familiar face attached to it no doubt boosts his chances.

"The 2 Sisters story sent shockwaves through the food processing industry and is a wake-up call for consumers," says Doherty. "The idea that you can get two cooked chickens for a fiver from your local supermarket means that we devalue food. If I want to buy a bag of grain and feed my chickens, it costs me six quid. This is a system that is going to collapse unless consumers realise we can't have cheap meat all the time.

"I've been to the rhubarb triangle up in West Yorkshire, which should be one of our food heritage sites, but they don't make any money. You have supermarkets saying to suppliers 'we're going to do a bogof, but you're going to have to pay to put a new sticker on the product and buy a new machine' just so their customers can get a deal. Meanwhile that producer is getting 50% less and he's got to let them run that for four months otherwise he'll be delisted."

Listening to Doherty talk sustainability, biodiversity and Brexit ("it was sold to people there was a plan and there isn't") it's clear he is one of that rare breed - a media personality who knows what he's talking about. A once hapless first-time farmer, sent up by the BBC, he doesn't regret that highly publicised learning curve. "That naïvety was my advantage. It's quite a powerful weapon. If you weren't naïve you wouldn't do it in the first place."